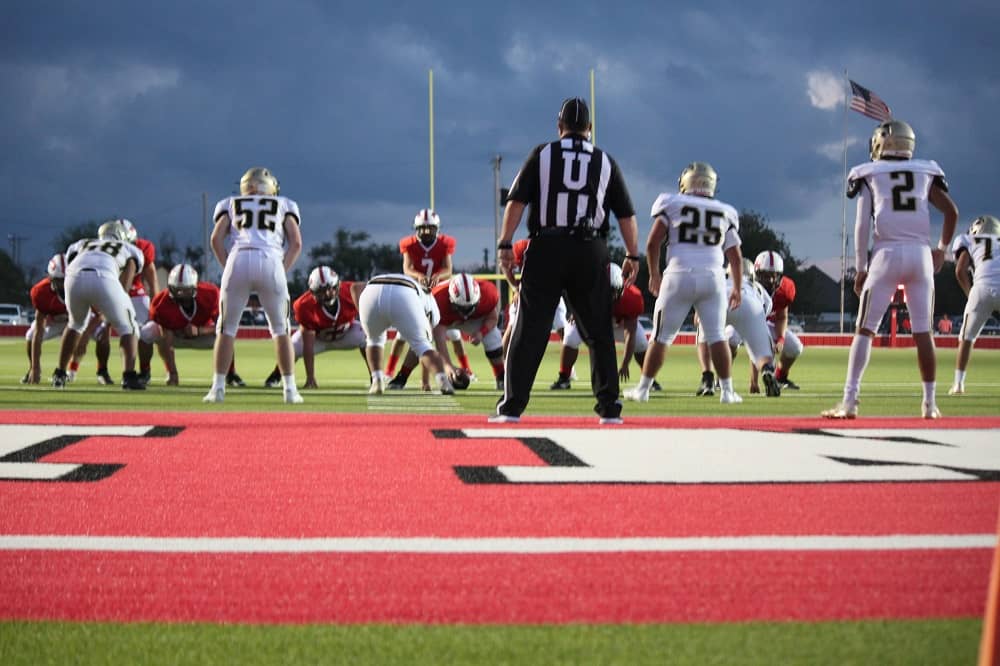 The Lockney Longhorns line up in the red zone during their homecoming game against the Memphis Cyclones on Oct. 8, 2021. (Alex Driggars/Floyd County Record)
RALLS — Lockney's injury situation came at a very unfortunate time in the stretch run of 5-2A-II race with the Roscoe Plowboys and Ralls Jackrabbits in the last two games. The Longhorns (7-3, 2-2) lost their regular season finale against the Ralls Jackrabbits (7-3, 3-1) 44-7 on Friday at Jack Mize Field.
The Jackrabbits had a good first half of jumping out to a 32-7 lead by halftime. Lockney got its lone touchdown in the first quarter on 5-yard pass from Pablo Morales to Maliki Alvis.
Morales was the Longhorns' top offensive weapon of passing for 130 yards. Austin Rodriguez was the leading receiver with five catches for 64 yards. Ian Rodriguez was Lockney's leading rusher with 53 yards. The Longhorns had a total offensive production of 223 yards.
"We continued to play hard. Ralls is very good ballclub. We are pretty beat up on the injury side," said Lockney coach Cory McCombs. The Longhorns have lost numerous key players along with the way this season including their most experienced lineman Chris Moreno, linebacker Dax Poole, running back/linebacker Nathan Cineceros, and slotback/defensive back Jesus Gonzales to various injuries.
"We are excited about the Bi-District playoff game with the Seymour Panthers (5-5). They have had success out of the spread offense. They finished as the runner up to Archer City. Seymour has been playing a freshman at quarterback the last two games," McCombs noted.
Lockney will tangle with Seymour in Tuscola (south of Abilene) at Jim Ned's Indian Stadium on Thursday at 7 p.m. Tickets can only be purchased online — not in advance in Lockney or at the stadium on Thursday.
Scoring Summary
Lockney – 7  0  0  0 – 7
Ralls – 14  18  12  0 – 44
Records: Lockney (7-3, 2-2); Ralls (7-3, 3-1)
First Quarter
L – Pablo Morales 5 yd. pass to Maliki Alvis (Josh Jimenez kick)
District 5-2A-II Results
Ralls 44, Lockney 7
Roscoe 61, Hamlin 0
District 5-2A-II Final Standings
1. Roscoe – 4-0, 9-1
2. Ralls – 3-1, 7-3
3. Lockney – 2-2, 7-3
4. Crosbyton – 1-3, 4-6
5. Hamlin – 0-4, 0-10
Bi-District Playoffs for 5-2A-II Schools
Thursday
Lockney (7-3) vs. Seymour (5-5) — Tuscola Jim Ned's Indian Stadium, 7 p.m.
Roscoe (9-1) vs. Quanah (2-8) — Post's Jimmie Redman Stadium, 6 p.m.
Ralls (7-3) vs. Olney (4-6) — Sweetwater's Mustang Bowl, 7 p.m.
Crosbyton (4-6) vs. Archer City (7-2) — Abilene's Shotwell Stadium, 7 p.m.