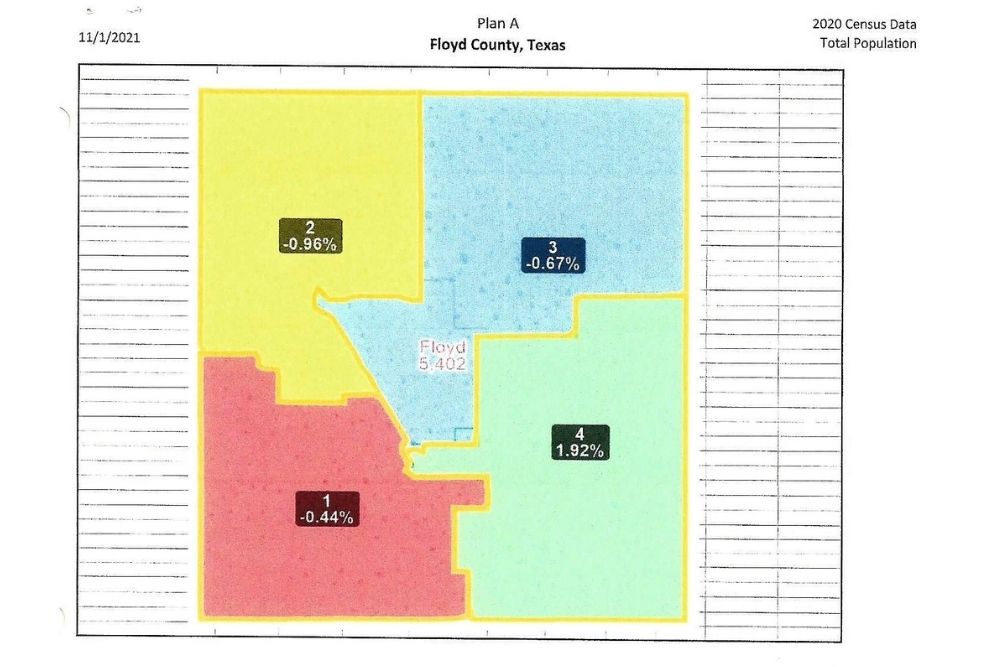 This map show Floyd County's redistricted precincts as adopted during a meeting on Nov. 9, 2021.
FLOYDADA — No members of the public showed up to a public hearing on Tuesday afternoon to address County Commissioners about Floyd County's proposed redistricting plan following the 2020 Census. The Floyd County Commissioners Court adopted the plan.
Bob Bass of the Allison, Bass & Magee law firm (who prepared the redistricting plan) told commissioners in a previous meeting that Floyd County lost more than 1,000 residents (19.3 percent of the population) between the 2010 and 2020 censuses. Because of this, Bass said, a "considerable imbalance" existed in population between precincts, which prompted the redistricting process.
The new plan moves the southern boundary of Precinct 3 further into the City of Floydada, absorbing a previous portion of Precinct 4. The boundary between Precincts 1 and 4 shifted a bit inside city limits as well.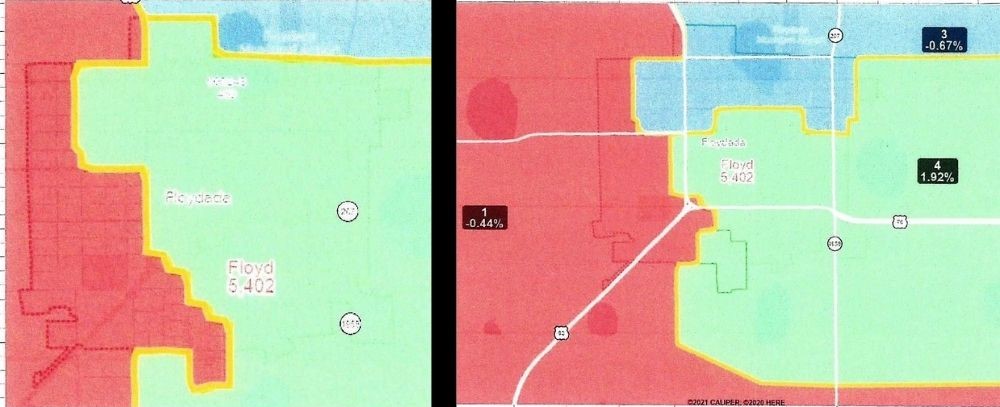 Precinct 2 absorbed two blocks in the City of Lockney simply in order to straighten the 2-3 boundary line. A pair of special voting precincts that are no longer needed were also eliminated.
Under the new plan, Precincts 3 and 4 will consist of a Hispanic majority of more than 65 percent each, but said that this imbalance is acceptable under voting rights legislation due to the fact that Floyd County's total population is more than 56 percent Hispanic. Precincts 1 and 2 will be majority white.
During the meeting, County Clerk and Elections Administrator Ginger Morgan expressed concern regarding the southern move of the Precinct 3 boundary into Floydada. Morgan said that under recent Texas legislation, voters in a special election such as the recent Texas constitutional/school board election (but not general elections or primaries) must vote in their precincts on election day and are not allowed to vote at either polling place in the county, as has been the case previously. This means that residents of Floydada who also happen to reside in Precinct 3 would be required to travel to Lockney to cast ballots if they do not vote early.
Commissioners said that they would address the possibility of adding a polling place within Precinct 3 in Floydada if/when that problem arose. The Court voted 4-0 to adopt the plan. Precinct 4 Commissioner David Martinez was not present.