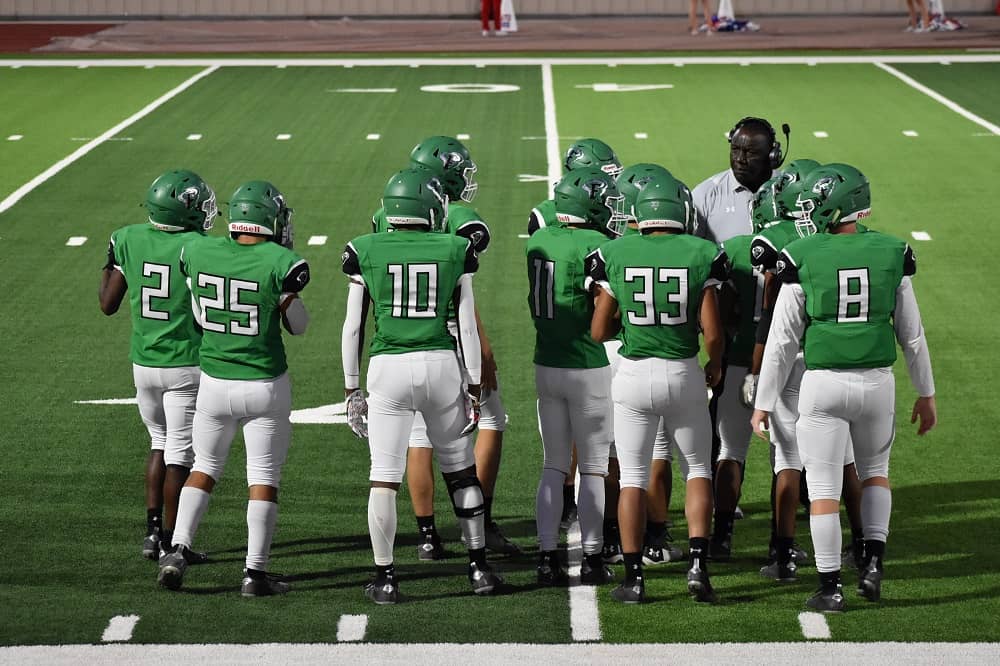 Coach J.R. Compton instructs his offense during the Sundown game on Oct. 15, 2021. (Ryan Crowe/Floyd County Record)
TULIA — Since Panhandle turned its 0-5 season start around in their District 1-2A-I opener by beating the Olton Mustangs 42-20, the Panthers have not experienced a loss and appear to be stronger by the week. Junior quarterback Landyn Hack and teammates made a strong impression in their 56-0 win over the Floydada Whirlwinds (3-8) at Younger Field in a 2A-I Bi-District Playoff game on Friday. Panhandle's winning streak now is six straight, and it leaves one wondering how did the Panthers lose every non-district outing? Those five opponents ended the regular season with a combined 41-7 record, and they went 3-2 in the Bi-District playoffs.
Hack has been a true form dual-threat quarterback during his sophomore and junior years. Friday against Floydada, Hack ran for 193 yards (4 touchdowns) and passed for 195 yards (3 touchdowns). Hack's season totals are now an impressive 1,581 yards rushing (15 touchdowns) and 1,543 yards passing (30 TDs). To add to his very athletic portfolio, Hack connected on a 35-yard field goal, plus he prevented Floydada junior Saul Reyes from scoring on a big 35-yard pass play by screening off the speedy Whirlwind in the open field and allowed a Panther teammate run Reyes down from behind.
Panhandle established control of the game early by scoring touchdowns on their first five possessions. The Panthers outgained the Whirlwinds 585 to 180 yards in total offense. Hack was not the only weapon the Panthers had, as Wyatt Brookshire scored a touchdown rushing and receiving. Nick Mize was Hack's favorite receiver and he scored on a touchdown reception.
Floydada made three serious threats of penetrating Panhandle's red zone on three possessions before stalling out at the 18, 10, and 8-yard lines. The Panthers defense is definitely under-rated with its "bend not break" mentality. Panhandle would also play a shut down type of defense by forcing Floydada into five possessions of three and out.
The Whirlwinds will lose five seniors from the team starting with quarterback Trace Glasscock (1,300 yards passing), and two-way starter Davian Ramos (third-leading tackler). Other seniors are
running back Javier Santos, plus linemen Andrew Suarez and Devin Riojas that played key role as reserves.
There were 20 underclassmen on the 2021 roster and 18 of them were in starting positions at various parts of this season. Returning experience should be a plus for the Whirlwinds in 2022.
District 1-2A-I* Bi-District Results
New Deal* (10-1) 63, Olton 21
Sundown* (8-3) 52, Sanford-Fritch 13
Post* (5-6) 46, Farwell 14
Panhandle 56, Floydada* (3-8) 0
How Floydada's Non-District opponents fared
Roosevelt (11-0) 44, Spearman 11
New Home (8-3) 45, Plains 8
Seymour 49, Lockney (7-4) 20