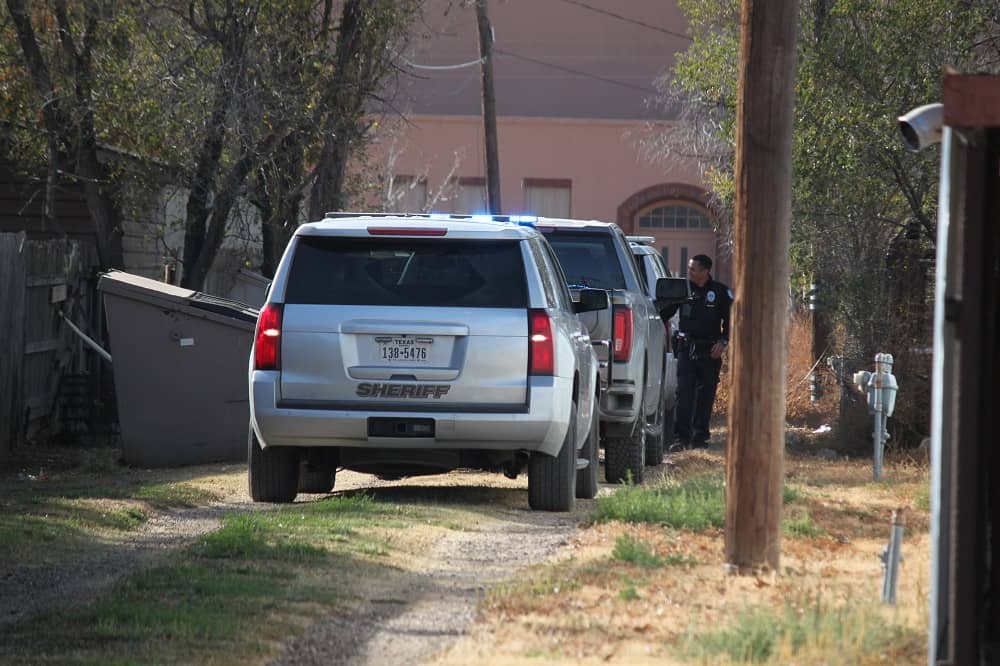 Multiple law enforcement agencies responded to a burglary in Floydada on Nov. 16, 2021. (Alex Driggars/Floyd County Record)
FLOYDADA — Two individuals are behind bars following a burglary in Floydada Tuesday afternoon.
Floydada police responded to a call around 2:30 p.m. Tuesday for two suspicious persons dressed in all black, who police say were dropped off in the alley between the 200 blocks of West Marivena Street and West Jeffie Avenue.
According to the Floydada Police Department, a responding officer observed the two individuals exiting a residence through a window and attempting to flee the scene. The suspects were reportedly in possession of several ounces of marijuana that they attempted to discard during the incident.
Both individuals were taken into custody and each charged with felony counts of Burglary of a Habitation, Tampering with Physical Evidence with Intent to Impair, and Possession of Marijuana More Than 4 oz. but Less Than 5 lbs. in a Drug-Free Zone.
Police declined to identify the suspects, citing an ongoing investigation.
The Floyd County Sheriff's Office and Lockney Police Department assisted with the arrests.
Police say that this incident is not believed to be connected to another recent report of burglary in Floydada. The Floydada Police Department reminds the public to lock all doors and windows, especially during the busy holiday travel season.