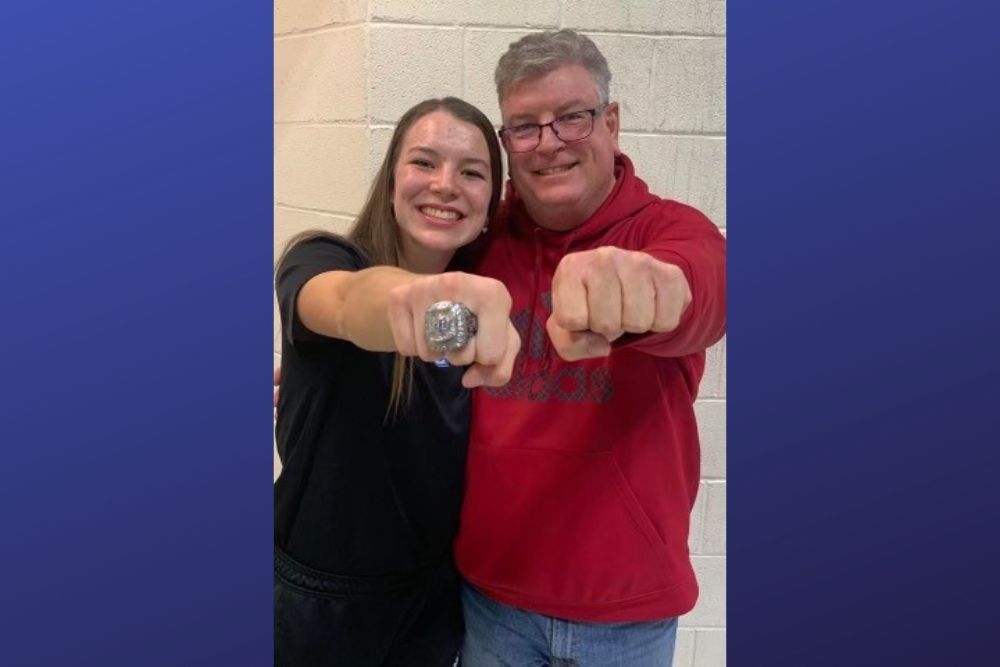 Shaylee Stovall (left) shows off her LCU National Championship Ring. (Courtesy Photo)
LUBBOCK — The Lubbock Christian University Lady Chaps received their 2021 NCAA Division II National Championship rings on Friday night at halftime of the LCU vs. West Texas A&M men's basketball game. Among the recipients of the coveted jewelry was Shaylee Stovall of Idalou who has family in Floydada.
Shaylee is the daughter of Ty Stovall of Lubbock, and granddaughter of Robert Stovall of Floydada.
Shaylee graduated from Idalou in 2020, and was a freshman on the most recent LCU Championship team. She is a 5'6″ guard. The Lady Chaps went undefeated at 23-0 in the COVID-stricken 2020-21 season. It was LCU's second season to go unblemished, as the Lady Chaps were 35-0 in 2016 when they were also National Champions. Steve Gomez was the coach of both squads.
Shaylee was a key player in Idalou's three consecutive 30-plus-win seasons in 2020, 2019 and 2018. Her junior and senior years, Idalou played in back-to-back Region I-3A Championship games against Wall and Shallowater. Shaylee was a three-time All-State player by the Texas Girls Coaches Association in class 3A. She was coached by former Whirlwind Tyler Helms all four years that she lettered at Idalou.
Ty Stovall is a 1988 graduate of Floydada High School, where he was a successful athlete in football, basketball and golf. Ty coached the Whirlwinds to Floydada's first ever Region I Quarterfinals in the 1998 boys basketball season.
Robert Stovall was an outstanding athlete himself, playing football as a running back in the 1950s under both head coach Preston Watson and assistant Charlie Tyer. Robert is reported to be the first Whirlwind to letter as a freshman, in the fall of 1953.
Franklin Stovall, Robert's older brother and Shaylee's great uncle, was a player when the Whirlwinds upset the No. 1 rated Phillips Blackhawks in the 1952 playoffs. The infamous "Ice Game" at Dick Bivins Stadium in Amarillo is where Floydada played the second half in rubber soled tennis shoes. Phillips ice skated the entire game in their steel-tipped cleats.
Grant Stovall, Robert's youngest son and uncle of Shaylee, was the quarterback of Floydada's last undefeated regular season in the fall of 1989. The Whirlwinds finished the season at 10-1 by falling to the Canyon Eagles at Bi-District. Grant is now a Senior Vice-President in the Texas Tech Athletic Director's office. He is in charge of all Texas Tech trainers of the 17 Red Raider and Lady Raider sports teams.