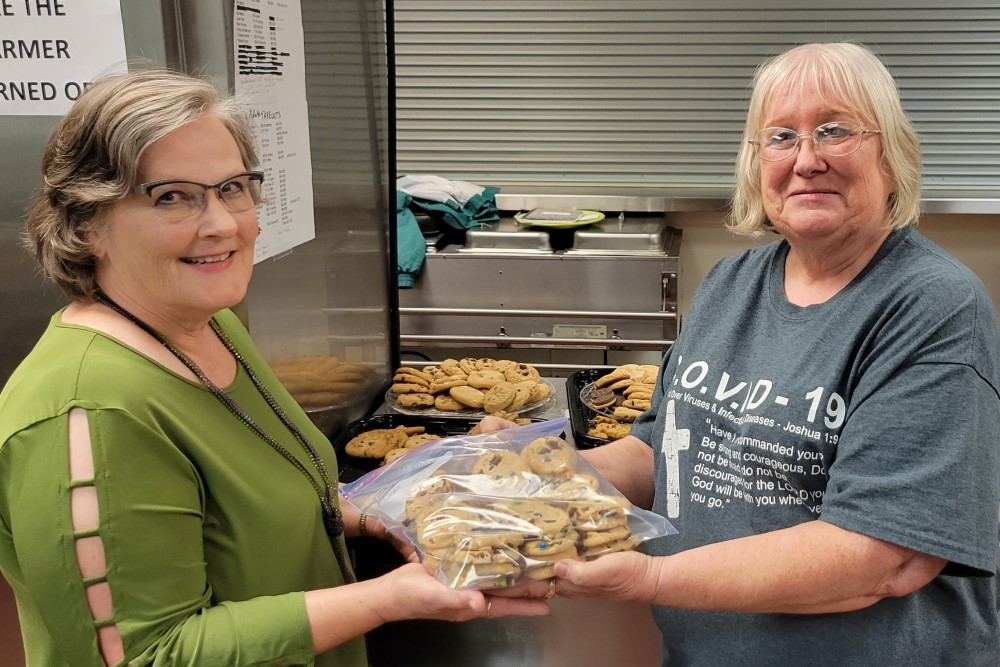 Robbie Odom (left) and Sheryl Back with Floydada's Spirit of Sharing (S.O.S.) (Floyd County Record Photo)
FLOYDADA — Parishioners from seven community churches gathered Sunday evening for the Community Thanksgiving Service at First Baptist Church, organized by the Floydada Ministerial Alliance.
Gary Boles, Pastor of First United Methodist Church, brought a message from the book of Romans, highlighting the purpose of others in our lives, casting a modern-day explanation for Paul's writing in Chapter 16 and the importance of "lists."
The event also served as a fundraiser for the Spirit of Sharing (S.O.S.), an organization launched by the alliance in 1984 to help those in need within the community.
"We can help anyone if they have a Floydada address," Robbie Odom, President of S.O.S., explains, though there are some exceptions for those passing through town. Specifically, S.O.S. assists those in need with clothing, food, utilities and can also help those in domestic situations.
A small group of volunteers provides the work, while the funding comes through donations from the local churches, Floyd County, Lions and Rotary clubs, Boy and Girl Scouts, 4H, the schools, and Lowe's Supermarket Floydada.