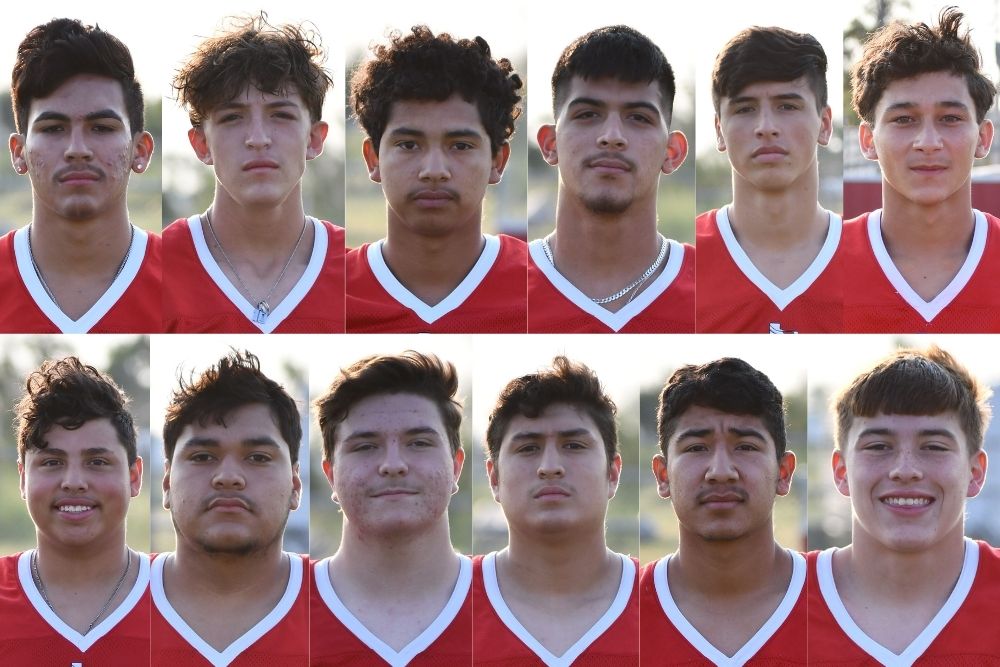 Lockney's 2021 All-District football selections are (clockwise from top left): Elias Alvarez, Malaki Alvis, Andrew Bustillos, Nathan Ceniceros, Jonathan Cienfuegos, Jesus Gonzales, Austin Rodriguez, Pablo Morales, Jisiah Lara, Quinten Johnson, Joshua Jimenez, and Adrian Hernandez. (Nathan Giese/Plainview Herald)
LOCKNEY — The Lockney Longhorns had a very successful football season this fall, finishing 7-4 including a seven-game winning streak. The 5-2A-II coaches recognized Lockney's season by placing five Longhorns on the first team for offense and four on the first team for defense.
Senior running back/linebacker Nathan Ceniceros led the way for the Longhorns by being selected to the first teams on both offense and defense. Junior tight end/defensive end Jonathan Cienfuegos was honored first team as defensive end and second team as receiver.
"I congratulate the Lockney players on a great football season. When you look at the whole body of work, they accomplished a lot. They gave us great effort every game," said Lockney head coach Cory McCombs.
The Longhorns won seven games in both the 2021 and 2020 seasons, and they also qualified for the playoffs both seasons. Both years, Lockney had strong senior class leadership.
Longhorns Named All-District
First Team Offense
RB – Nathan Ceniceros – Sr.
WR – Austin Rodriguez – Sr.
OL – Jishia Lara – So.
OL – Quinton Johnson – Sr.
Utility – Jesus Gonzales – Sr.
First Team Defense
ILB – Nathan Ceniceros – Sr.
OLB – Pablo Morales – Sr.
DE – Jonathan Cienfuegos – Jr.
DB – Elias Alvarez – Sr.
Second Team Offense
WR – Andrew Bustillos – Jr.
TE – Jonathan Cienfuegos – Jr.
OL – Adrian Hernandez – So.
Second Team Defense
DL – Joshua Jimenez – Sr.
DB – Malaki Alvis – Jr.
Superlatives
District MVP – Antonio Aguayo (Sr. WR/DB) – Roscoe
Offensive MVP – Sergio Salinas (Sr. RB) – Ralls
Defensive MVP – Coby Rendon (Sr. LB) – Ralls
O-Lineman of the Year – Britt Justiss (Sr.) – Roscoe
D-Lineman of the Year – Reese Kiser (Sr.) – Roscoe
Newcomer of the Year – Ivan McCam (Fr. WR/LB) – Roscoe
Staff of the Year – Roscoe
First Team All District (Per School)
Roscoe – 6 off., 6 def., 4 sup.
Lockney – 5 off., 4 def.
Ralls – 3 off., 5 def., 2 sup.
Crosbyton – 4 off., 4 def.
Hamlin – 1 off., 1 def.
5-2A-II Final Standings
Hamlin – 4-0, 10-2
Ralls – 3-1, 7-4
Lockney – 2-2, 7-4
Crosbyton – 1-3, 4-7
Hamlin – 0-4, 0-10