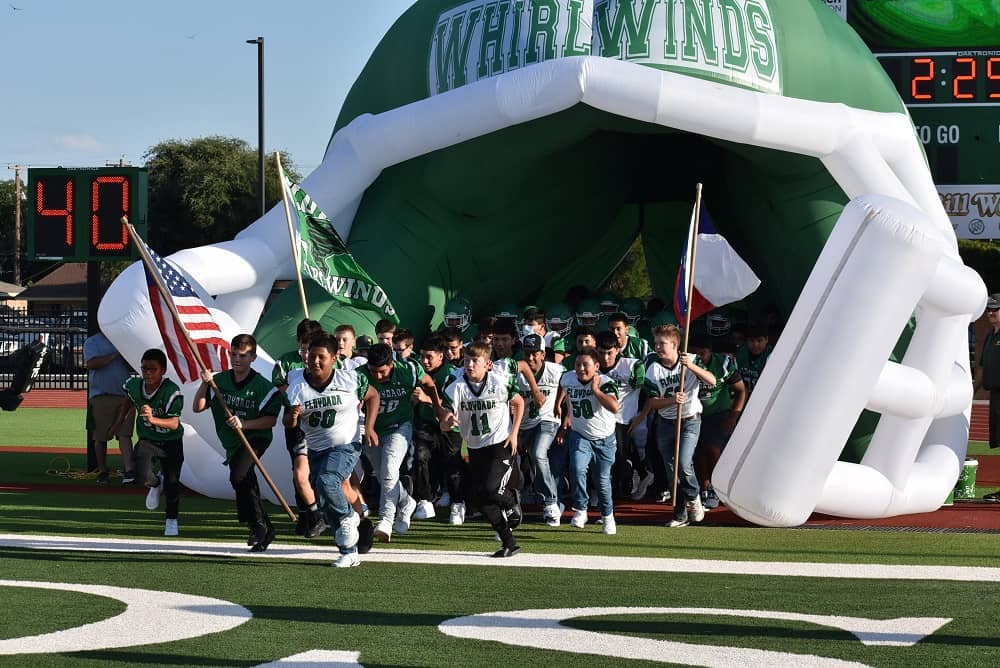 Floydada football players run out of the tunnel to start the 2021 season. (Ryan Crowe/Floyd County Record)
FLOYDADA — Junior Izaiah Alvarado's versatility and freshman Leo Mendoza's kicking accuracy were recognized by the 2-2A-I coaches as the district's "Utility Player of the Year" and the "Newcomer of the Year" respectively on the "superlatives" portion of the 2021 All-District football team released this past weekend. The list was released after the District Champion New Deal Lions were eliminated in the Region Semifinals (third round) by the Cisco Lobos 34-14 on Friday.
Alvarado and Mendoza made big contributions in the Whirlwinds' journey to qualifying for the bi-district playoffs, with key plays in the exciting 35-34 come-from-behind win over the Hale Center Owls on Nov. 5 at Charles Tyer Stadium.
Alvarado rushed for 173 yards and two touchdowns, plus he saved the game with an interception of a Hale Center pass at the goal line with about 40 seconds remaining. Alvarado played four positions over the course of the season where he ended up being the team's leading producer in all-purpose yards (700 rushing and receiving), individual scoring with 10 touchdowns, and he led the team with 105 tackles as a inside linebacker. Alvarez was a double-honoree First Team All-District Defense as a linebacker, and as a punter, plus Second Team All-District as a running back on offense.
Mendoza made his impact of being the team's place kicker in district play after the Whirlwinds went through the entire non-district schedule without an extra point kicker. He was a perfect 4-4 on PAT kicks in the Hale Center game, and made the pressurized go ahead point with 2:08 to go in the contest. It was the first time Floydada had led in the entire game. Mendoza was 11-11 on his extra point kicks for the season, and made a 30-yard field goal in his debut in the Whirlwinds' win at Tahoka.
Here are the honorees on the 2-2A-I All-District football team for 2021:
Superlatives
District MVP – Leric Easton – (Sr. RB) – New Deal
Offensive MVP – Harley Patterson (Sr. QB) – New Deal (Senior)
O-Line Players of the Year – Matthew Langford (6'7″, 310 Sr.) – New Deal; Jeffrey Rodriguez (Jr.) – Sundown
Defensive MVPs – Kenrick Nelson (Jr. LB) – New Deal; Cale Harley (Jr. LB) – New Deal;
Kevin Garcia (Sr. LB) – Sundown
Utility Player of the Year – Izaiah Alvarado (Jr.) – Floydada
Newcomer of the Year – Leo Mendoza (Fr.) – Floydada
Floydada's All-District Honorees
First Team Offense
Saul Reyes – receiver (Jr.)
Edgar Cervera – guard (Jr.)
First Team Defense
Izaiah Alvarado – inside linebacker (Jr.)
Izaiah Alvarado – punter (Jr.)
Andrew Suarez – def. end (Sr.)
Hagen Hinsley – outside linebacker (So.)
Jayson Cooper – safety (Jr.)
Second Team Offense
Trace Glasscock – quarterback (Sr.)
Izaiah Alvarado – running back (Jr.)
Aiden Trevino – fullback (So.)
Jayson Cooper – receiver (Jr.)
Devin Riojas – center (Sr.)
Adam Delgado – guard (Jr.)
Davian Ramos – tackle (Sr.)
Second Team Defense
Adam Delgado – tackle (Jr.)
Andres Mendoza – outside linebacker (Jr.)
Donovan Rocha – cornerback (Jr.)
Ty Henderson – safety (Fr.)
Honorable Mention
Armando Cruz – off. line (So.)
Phillip Rodriguez – def. back (Jr.)
2-2A-1 Final Standings
New Deal – 5-0, 11-2 – 3rd round
Sundown – 4-1, 8-4 – Area round
Post – 3-2, 5-7 – Area round
Floydada – 2-3, 3-8 – Bi-District
Hale Center – 1-4, 3-7
Tahoka – 0-5, 0-10