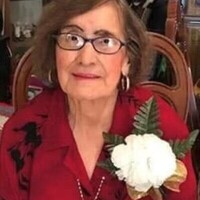 Elida Ponce (Floydada)
Elida Ponce, age 87, passed away Friday, January 7, 2022.  Mass of Christian Burial will be at 2:00 p.m., Wednesday, January 12, 2022, at St. Mary Magdalen Catholic Church in Floydada.  Interment will follow at Floydada Cemetery.  Rosary will be recited at 7:00 p.m., Tuesday, January 11, 2022, at Moore-Rose Funeral Home in Floydada.  Arrangements are under the personal care of Moore-Rose Funeral Home in Floydada.
Elida was born December 21, 1934, in Post, Texas to Mr. and Mrs. Luis Garcia.  She grew up in Odem where she met Delfino Pesina.  They married in 1948.  She was a homemaker, wife, and mother to 5 daughters and one son.  They moved to Floyd County in 1963.
Elida was preceded in death by her first husband, Delfino Pesina; her second husband, Benito Ponce; two daughters, Elvira Pesina and Sylvia Vela; and her mother and father,
Those left to cherish Elida's memory are her children, Mary Cervantes (Jimmy) of Floydada, Daniel Pesina (Vicki) of Floydada, Jovita Lopez (Santos) of Lamesa, and Elizabeth Vasquez of Floydada; grandchildren, Randy Pesina, Sandra Pesina, Daniel Pesina, Jr., George Perez, Leslie Perez, Christina Cervantes, Chris Cervantes, Patricia Juarez, Jesse Vela III, Rod Vela, Sergio Vela, Melissa Cervantes, Isabel Martinez, Melinda Lopez, Chris Florez, Emilio Florez, April Florez, and Crystal Cerda; numerous great-grandchildren and three great-great-grandchildren.