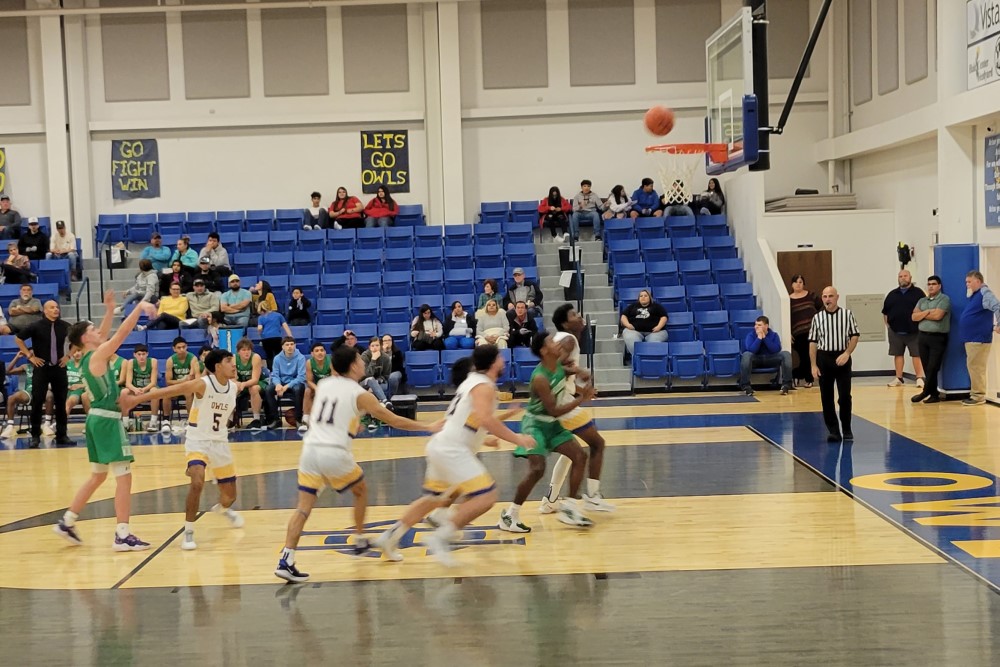 Braun Hobbs (3) for Floydada sinks a late free throw in the Winds victory over Hale Center on Jan. 18, 2022. (Floyd County Record Photo)
HALE CENTER — The Floydada Whirlwinds found a way to hold off a second-half surge by the Hale Center Owls on Tuesday night to take a narrow 62-60 District 4-2A win at Owls Gym.
Floydada (18-2, 1-1) jumped out to a 19-12 first-quarter lead and then had to fight off the Owls (10-11, 0-2) who outscored the Whirlwinds the final three quarters by a total of five points.
A trio of Floydada juniors led the Whirlwinds scoring with Abran Castillo (18 points), Luis Gonzalez (14), and Jayson Cooper (11). Hale Center was led by Willie Martinez with 15.
Scoring
Floydada – 19 12 14 17 – 62
Hale Center – 12 13 15 20 – 60
Halftime: Floydada 31-25
Records: Floydada (18-2, 1-1), Hale Center ( 10-11, 0-2)
Floydada scoring: Abran Castillo – 18, Luis Gonzalez – 14, Jayson Cooper -11, Aiden Trevino – 8,
Braun Hobbs – 7, Ty Henderson – 4
Hale Center scoring: Willy Martinez – 15
Floydada rebounding: Cooper – 8, Trevino – 5, Gonzalez – 3
District 4-2A Boys Results (Tues., Jan. 18)
Floydada 62, Hale Center 60
New Deal 65. Lockney 35
Ralls – open date
District 4-2A Boys Standings and Season Records
New Deal – 2-0, 17-5
Ralls – 1-0, 16-6
Floydada – 1-1, 18-2
Lockney – 0-1, 11-8
Hale Center – 0-2, 10-11
District 4-2A Boys Schedule for Friday, Jan. 21
Ralls at Floydada
Hale Center at Lockney
New Deal – open date