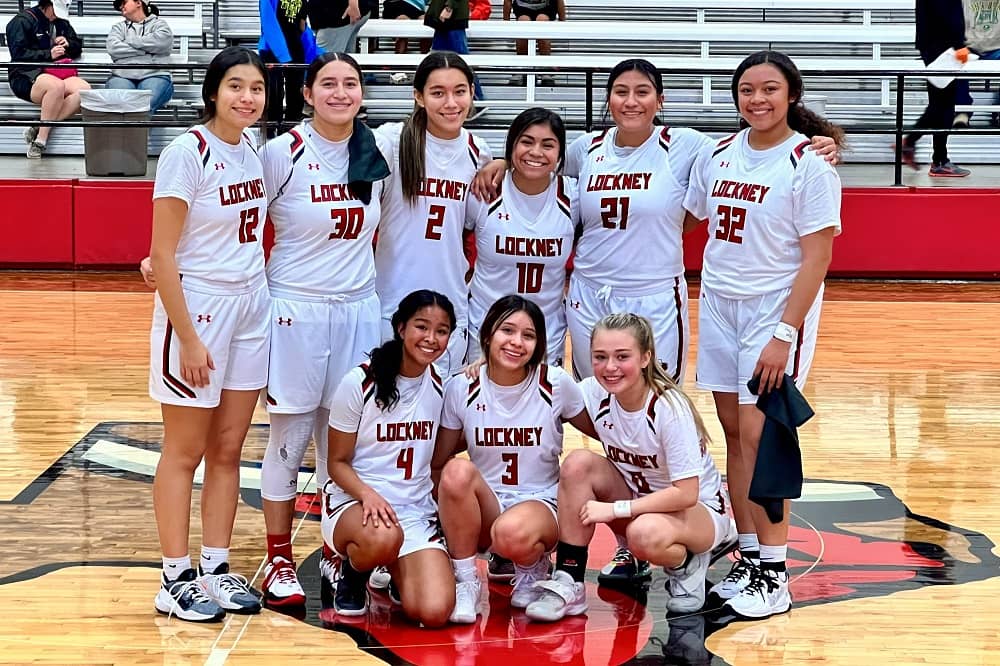 The 2021-22 Lockney Lady Horns pose after beating Petersburg on Dec. 30, 2021. (Gracie Cervantes/for The Record)
NEW DEAL — The Lockney Lady Horns (20-6, 1-2) suffered their second-straight District 4-2A loss on the road Tuesday, falling to the New Deal Lady Lions 47-36. The third quarter proved to be costly for Lockney being outscored 16-8.
The New Deal win moved the Lady Lions (17-12, 3-1) into sole possession of first place in 4-2A, a half-game lead over Floydada (2-1) who lost to Hale Center 51-39.
Lockney has been an explosive team this season with its 3-point shooting, but Tuesday the Lady Horns made just 4 of 24 for 15 percent from the arc.
The Lady Horns were led in scoring by Mariah Ascensio with 14, followed by Adri Villarreal's 10. Gabriella Cervantes just missed the double figures with eight.
Haven Walker and Ascensio were Lockney's top rebounders with eight each.
Scoring
LOCKNEY – 10 6 8 12 – 36
NEW DEAL – 14 5 16 12 – 47
Halftime: New Deal 19-16
Records: Lockney (20-6, 1-2), New Deal (17-12, 3-1)
Lockney Scoring: Mariah Ascensio – 14, Adri Villarreal – 10, Gabriella Cervantes – 8,
Senayda Bernal – 3, Haven Walker – 1
Lockney Rebounding: Walker – 8, Ascensio – 8, Bernal – 6, Cervantes – 5, Adaliyah Jones – 4,
Villarreal – 4
Pass Deflections: Villarreal – 4
Steals: Villarreal – 3, Cervantes – 2, Ascensio – 2, Bernal – 2
District 4-2A Girls Results (Tuesday, Jan. 18)
New Deal 47, Lockney 36
Hale Center 51, Floydada 39
Ralls – open date
District 4-2A Boys Results (Tuesday, Jan 18)
New Deal 65, Lockney 35
Floydada 62, Hale Center 60
Ralls – open date
District 4-2A Girls Standings and Season Records
New Deal – 3-1, 17-12
Hale Center – 2-1, 15-10
Floydada – 2-1, 15-7
Lockney – 1-2, 20-6
Ralls – 0-3, 3-20
District 4-2A Boys Standings and Season Records
New Deal – 2-0, 17-5
Ralls – 1-0, 16-6
Floydada – 1-1, 18-2
Lockney – 0-1, 11-8
Hale Center – 0-2, 10-11
District 4-2A Girls and Boys Schedules (Friday, Jan. 21)
Hale Center at Lockney
Ralls at Floydada
New Deal – open date