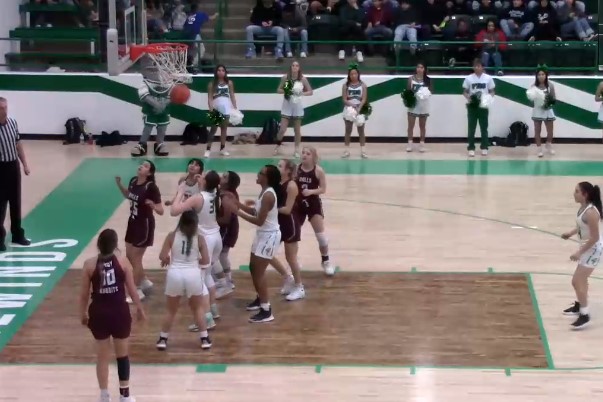 Erin Trevino (30) with a layup on Friday against Ralls
FLOYDADA – The Floydada Lady Winds climbed back into a tie for first place in the District 4-2A girls race by cruising past the Ralls Lady Jackrabbits 63-24 on Friday night at Whirlwind Gym. The lopsided victory got Floydada back in the win column after a disappointing loss to Hale Center on Tuesday.
The Lady Winds (16-7) and New Deal Lady Lions (17-12) now sit atop the district standings after the first round of a double round-robin district schedule with identical 3-1 records.
Floydada had a hot start by racing to an 18-4 first-quarter lead that grew to a 37-10 margin by halftime. The Lady Winds ran a full-court press in the early stages of the game that apparently threw Ralls out of rhythm.
Senior Celese Wickware scored a season-high 17-points inside the paint, while senior Erin Trevino provided a solid punch from the outside with 14.
RALLS – 4 6 6 8 – 24
FLOYDADA – 18 19 14 12 – 63
halftime: Floydada 37-10
records: Floydada (16-7, 3-1), Ralls (3-21, 0-4)
Floydada scoring: Celese Wickware – 17, Erin Trevino – 14, Sierra Snowden – 8, Zay Santos – 7,
Allyson Romero – 6, Lailah Burks – 5, Analise Perez – 2, Maria Garcia – 1
Rebounds: Burks – 8, Wickware – 5, Santos – 4
DISTRICT 4-2A Results (Friday, Jan. 21)
Floydada 63 Ralls 24
Lockney 55 Hale Center 50
New Deal – open
DISTRICT 4-2A standings and season records
Floydada 3-1 16-7
New Deal 3-1 17-12
Lockney 2-2 21-6
Hale Center 2-2 15-11
Ralls 0-4 3-21
end of the first round of district
DISTRICT 4-2A schedule (Tuesday, Jan. 25)
Ralls at Lockney
Hale Center at New Deal
Floydada – open
this starts the second round of district play