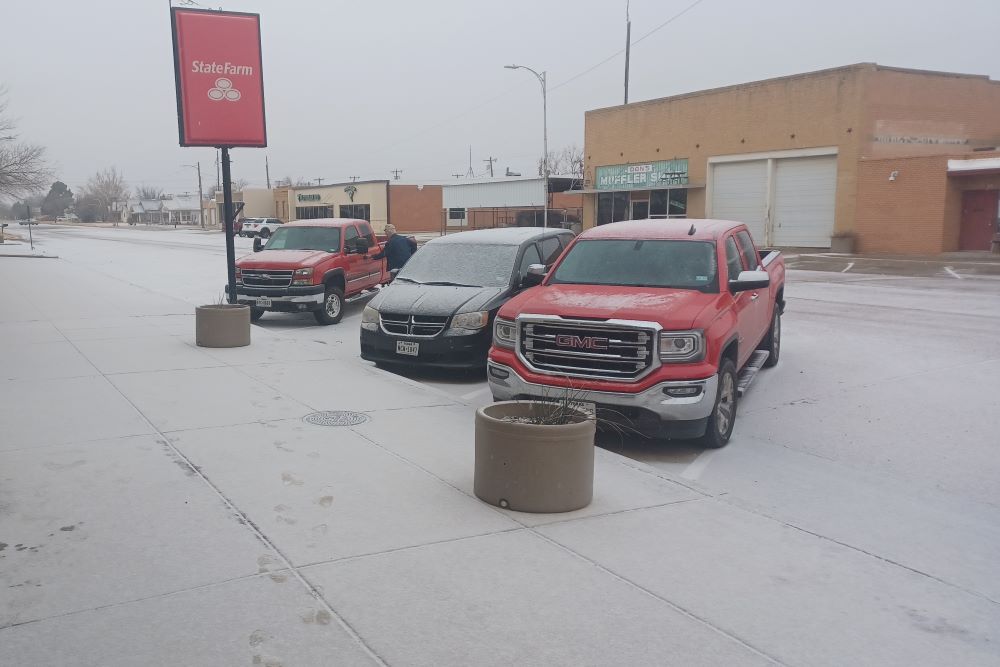 Light snow fell across downtown Floydada on Wednesday morning. (Ryan Crowe/Floyd County Record)
UPDATED 9:00 a.m. 1/27 – Midday snow across Floyd County Wednesday gave way to slush and ice along the roads and students with a few extra hours to their day.
West Texas Mesonet reports say that two inches of snow moved through the area.
At 3:15 PM CST, Floydada [Floyd Co, TX] LAW ENFORCEMENT reports HEAVY SNOW of 2.00 INCH. BRIEF BUT HEAVY SNOW BAND https://t.co/MW6dT8KZur

— KLBK Weather (@KLBKWeather) January 26, 2022
Floydada Collegiate ISD released students at 1:30 Wednesday afternoon due to the snow, and announced school will start on Thursday at 10:00 a.m.
Due to the weather and worsening road conditions, we will release school at 1:30 p.m. today. We will also have a 10 a.m. start tomorrow.

— Floydada Collegiate ISD (@Floydada_ISD) January 26, 2022
FCISD also said busses will run on pavement only Thursday.
Lockney ISD also delayed school until 10:00 a.m. Thursday morning. Superintendent Jim Baum told the Record fog concerns led to their delay.
TxDOT crews spent Wednesday afternoon out on the county's highways, making sure the roads are passable, but their website, DriveTexas.org still recommends drivers proceed with caution as roads can still have patches of snow and ice.
The following is the latest from the National Weather Service:
There could be pockets of freezing fog Thursday morning, but the afternoon will bring filtered sunshine and warmer temperatures. Even though a cold front will move through during the afternoon (with increasing northeasterly winds late in the afternoon), highs will rebound into the 40s and lower 50s.
It will be another cold night across the area in the wake of the afternoon cold front. If any snowpack still exists some patchy ground fog would be possible otherwise some high level cloud cover will be possible.
For more, visit weather.gov/LUB