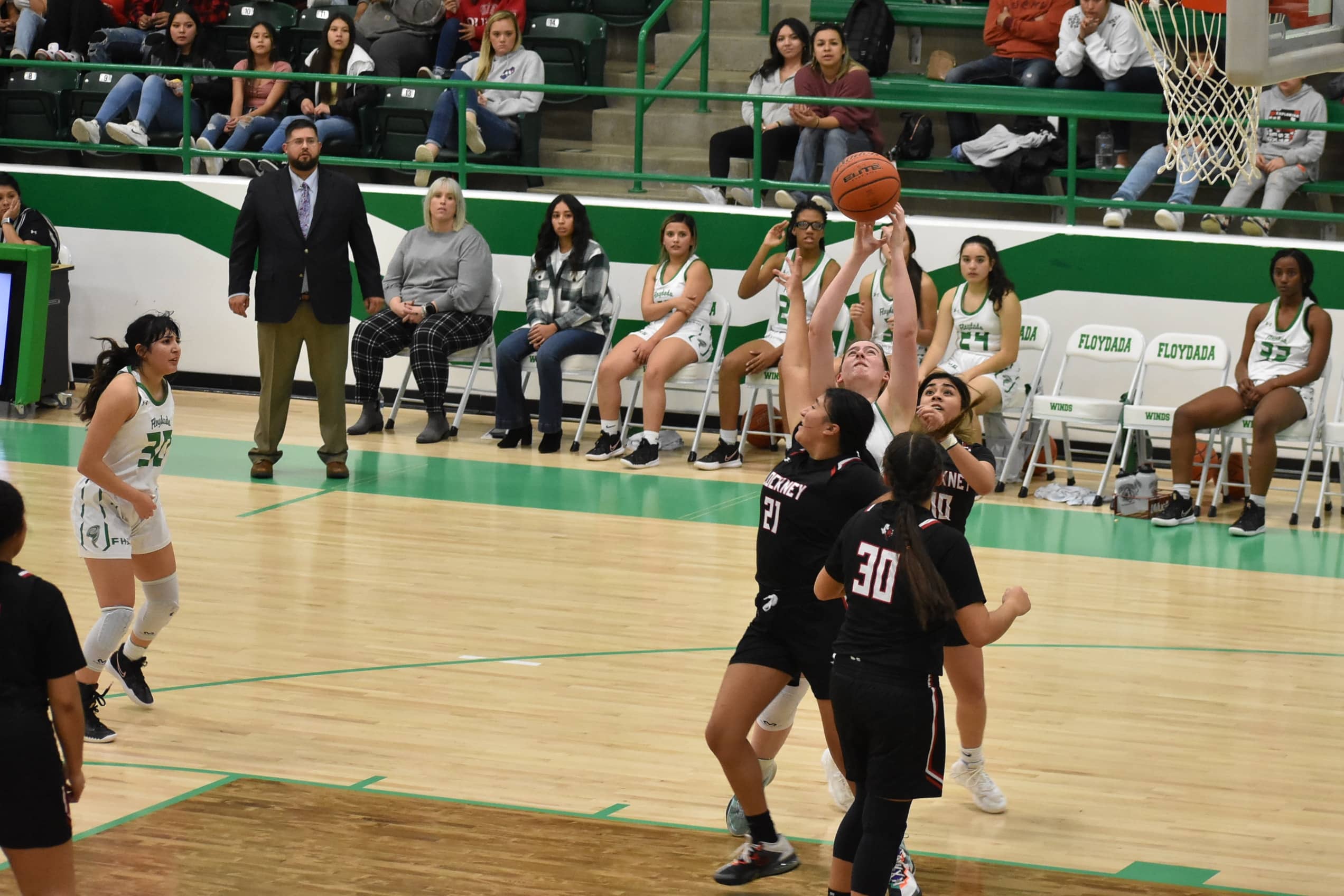 Lockney Lady Longhorns vs. Floydada Lady Whirlwinds in action at Whirlwind Gym in Floydada on Friday, January 28, 2022. (Ryan Crowe/FCR)
FLOYDADA – Momentum swung like a pendulem in a traditional Floyd County rival fashion with the Floydada Lady Winds (17-7, 4-1) getting the final surge in pulling off a 51-45 win over the Lockney Lady Horns (22-7, 3-3) at Whirlwind Gym on Friday. The victory gives the Lady Winds a two game sweep of the Lady Horns in the month of January.
Floydada took the early swings by winning the rebound battle and jumped out to a 18-7 lead in the first quarter. The second quarter the game leveled off between the two by each scoring nine points
and Floydada still maintained its double digit margin of 11-points at halftime.
Momentum shifted over to Lockney in third quarter as the explosive trio of Adri Villareal, Gabriella Cervantes and Moriah Ascensio started hitting 3's from the arc. The Lady Horns also got into the rebound battle by doing a good job of blocking out against the taller Floydada team. Lockney dominated the third stanza by a 21-7 scoring margin to take a three point lead to the fourth quarter.
The final stanza belonged to Floydada thanks in part of penetrations and free throw shooting by point guard Zay Santos, while Sierra Snowden and Soriah Wickware made multiple clutch rebounds.
Santos was the game's leading scorer with 24-points to lead Floydada. Lockney's top scorers were Villareal and Cervantes with 14 each.
LOCKNEY – 7 9 21 8 – 45
FLOYDADA – 18 9 7 17 – 51
halftime: Floydada 27-16
third quarter: Lockney 37-34
records: Floydada (17-7, 4-1), Lockney (22-7, 3-3)
Floydada scoring:
Zay Santos – 24
Sierra Snowden – 8
Erin Trevino – 6
Celese Wickware – 6
Soriah Wickware – 4
Lailah Burks – 2
Kaitlyn Ramirez – 2
Lockney Scoring:
Adri Villareal – 14
Gabriella Cervantes – 14
Adaliyah Jones – 8
Mariah Ascensio – 7
Senayda Bernal – 2
Floydada rebounding:
Snowden – 8
S. Wickware – 7
Burks – 5
Trevino – 4
Santos – 3
Analise Perez – 4
C. Wickware – 4
Lockney rebounding:
Ascensio – 7
Landri McCombs – 5
Villareal – 5
Bernal – 3
Cervantes – 3
Jones – 2
DISTRICT 4-2A Girls results (Friday, Jan. 28)
Floydada 51 Lockney 45
Ralls 29 New Deal 22
Hale Center – open
DISTRICT 4-2A Girls standings and season records
Floydada 4-1 17-7
Hale Center 3-2 16-11
Lockney 3-3 22-7
New Deal 3-3 17-14
Ralls 1-5 4-22
DISTRICT 4-2A Girls schedule for Tuesday, Feb. 1
Floydada at New Deal
Ralls at Hale Center
Lockney – open