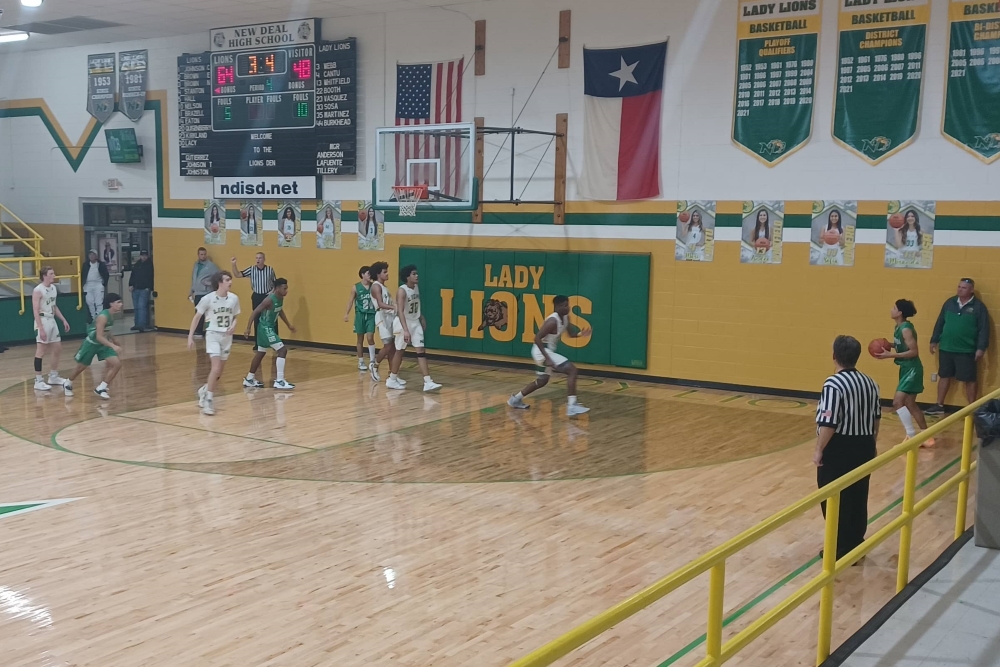 Floydada Whirlwinds at New Deal Lions (Ryan Crowe/FCR)
NEW DEAL – The New Deals Lions have established separation from the pack in the 4-2A boys race after a 64-48 win over the Floydada Whirlwinds on Tuesday at the Lions Den. The win keeps New Deal unblemished in district play with three games remaining in the regular season.
Floydada (19-4, 2-3) held a one point lead at halftime by a score 24-23. New Deal (20-5, 5-0) then took control in the second half by outscoring the Whirlwinds 43-24 down the stretch.
The Whirlwinds were led by Abran Castillo's game high 21-points in a losing effort followed by Jayson Cooper with 11. New Deal had two players score in the double-figures with Jason Brazell and Jayson Lacy putting in 18 each.
FLOYDADA – 9 15 7 17 – 48
NEW DEAL – 11 12 20 21 – 64
halftime: Floydada 24-23
third quarter: New Deal 42-31
records: Floydada (19-4, 2-3), New Deal (20-5, 5-0)
Floydada scoring:
Abran Castillo – 21
Jayson Cooper – 11
Braun Hobbs – 5
Aiden Trevino – 5
Ty Henderson – 4
Luis Gonzales – 2
Floydada rebounding:
Hobbs – 12
Trevino – 6
Cooper – 4
New Deal scoring:
Jason Brazell – 18
Jayson Lacy – 18
Kendrick Nelson – 9
Leric Eaton – 8
Keegan Kirkland – 8
DISTRICT 4-2A Boys results (Tuesday, Feb, 1)
New Deal 64 Floydada 48
Hale Center 61 Ralls 45
Lockney – open
DISTRICT 4-2A Boys standings and season records
New Deal 5-0 20-5
Lockney 2-2 13-9
Floydada 2-3 19-4
Hale Center 2-3 12-12
Ralls 1-4 16-10
DISTRICT 4-2A schedule for Friday, Feb. 4
Hale Center at Floydada
New Deal at Lockney
Ralls – open