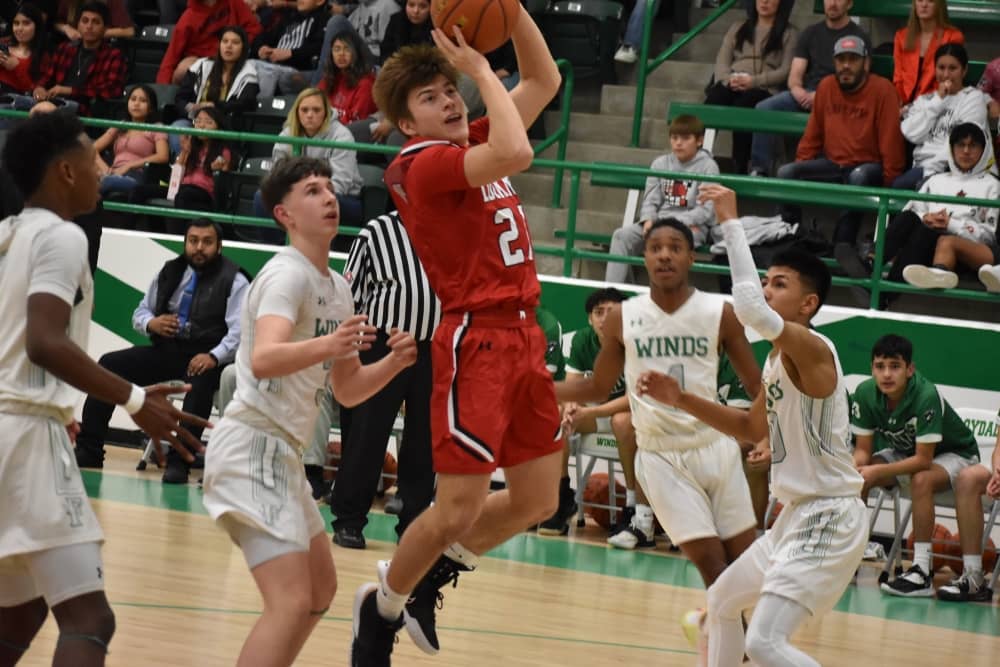 Lockney's Austin Rodriguez goes for a layup against the Floydada Whirlwinds on January 28, 2022. (Ryan Crowe/FCR)
HALE CENTER – Lockney senior Austin Rodriguez can make the plays with the game on the line, and that is what he did Tuesday night in the Longhorns 59-45 win over the Hale Center Owls.
Rodriguez was an impressive 12-of-15 at the free throw line in the fourth quarter and scored a game high 25-points in the win. He had a similar performance on January 28 in Lockney's big three point at Floydada by scoring 28 that included sinking 12 shots from the charity stripe.
Lockney outscored Hale Center in every quarter and finally pulled way with an 18-9 surge in the final stanza. The Longhorns had two other players score in the double-figures with Jonathan Cienfuegos and Max Ramirez putting in 12 apiece.
The Lockney win avenged a narrow 64-63 loss to the Owls in the first round of 4-2A play at Longhorn Gym on January 21.
LOCKNEY – 7 19 15 18 – 59
HALE CENTER – 6 17 13 9 – 45
halftime: Lockney 26-23
third quarter: Lockney 41-36
records: Lockney (14-10, 3-3), Hale Center (12-14, 2-5)
Lockney scoring:
Austin Rodriguez – 25
Jonathan Cienfuegos – 12
Max Ramirez – 12
Jesus Gonzales – 8
Nathan Hernandez – 2
Hale Center scoring:
Trey Coleman – 9
Kristian Ford – 9
Lionel Martinez – 8
DISTRICT 4-2A Boys results (Tuesday, Feb. 8)
Lockney 59 Hale Center 44
Floydada 71 Ralls 68
New Deal 66 Idalou 44 (non-district)
DISTRICT 4-2A Boys standings and season records
New Deal 6-0 * 22-5
Floydada 4-3 21-4
Lockney 3-3 14-10
Hale Center 2-5 12-14
Ralls 1-5 16-11
*clinched district championship
DISTRICT 4-2A Boys schedule for Friday, Feb. 11
Lockney at Ralls
New Deal at Hale Center
Floydada – open