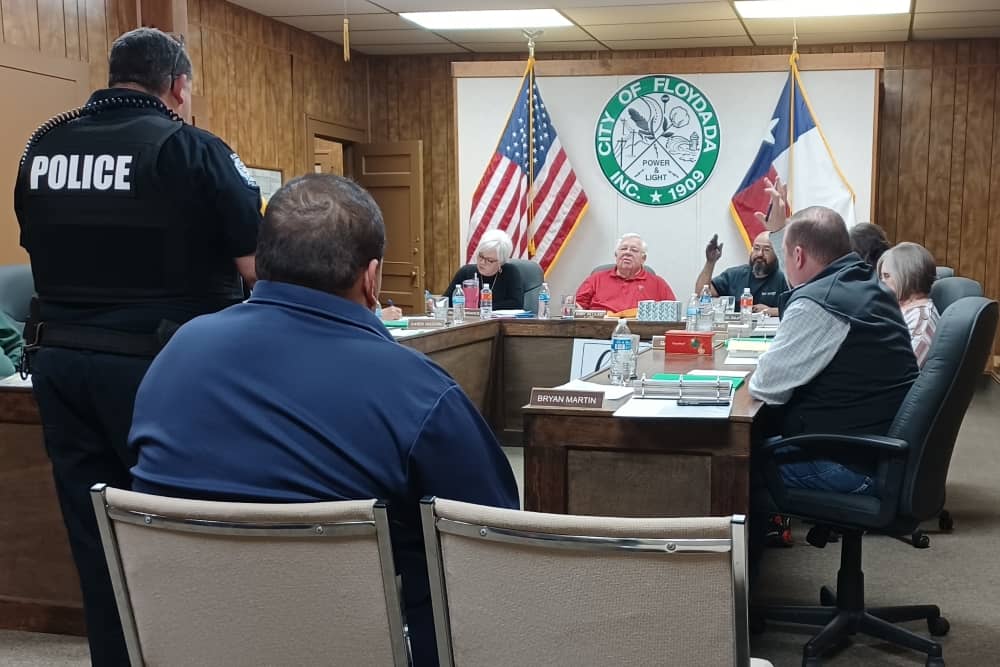 The Floydada City Council hears from Sgt. Marco Martinez during their February 15, 2022 meeting. (Ryan Crowe/FCR)
FLOYDADA – The Floydada Police Department is operating well within state guidelines when it comes to profiling. Chief Reuben Ramon presented the department's state-mandated annual racial profiling report to the Floydada City Council Tuesday night, and out of the 986 stops the department took part in during 2021, exactly zero had any complaints of racial profiling.
The report given to the council shows the racial and ethnic breakdown of the nearly 1,000 traffic stops, and shows that a total of 6 people were arrested, with the majority given written warnings.
Chief Ramon gave additional information not required by the state to show how his department was operating. He showed the council his department arrested a total of 68 people in 2021, that the department responded to 1,744 calls for service, and that the largest number of those calls were defined as 'criminal mischief' with a total of 24 incidents.
The Council also unanimously approved a grant application to the Office of the Governor from Sgt. Marco Martinez for a grant to purchase a new pursuit vehicle with a police interceptor engine for the department, replacing a pickup the department has owned since 2011. Sgt. Martinez asked the council for an in-kind match of $15,000 toward the purchase, with Chief Ramon noting that pervious grants the department had applied for were passed over in favor of ones where departments had such 'in-kind' buy-in from city councils.