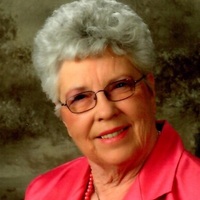 Louise (Parrish) Thompson (Plainview)
Funeral services celebrating the life of Louise E. Thompson, 87 of Plainview, will be Saturday, February 19, 2022, at 2:00 p.m., in Bartley Memorial Chapel with The Rev. Richard Dye, Pastor of First Christian Church-Plainview officiating.  Interment will follow in Parklawn Memorial Gardens under the care and direction of Bartley Funeral Home.  The family will receive friends Friday evening, February 18, 2022, from 7:00 – 8:00 p.m. at the funeral home.
Louise was called to be with the Lord, Thursday morning, February 17, 2022.  She was born on January 13, 1935, in Floydada to Joe and Martha Parrish.  She graduated from Lockney High School and later attended Watson Business College.  She married Billy R. Thompson, June 1, 1963, in Plainview.  She worked for more than forty years as a china painter and later worked for the Retired Senior Volunteer Program.  She loved animals, painting, reading, especially studying the Bible, gospel music, quilting, and sewing; but she truly treasured her family and grandchildren.
She was preceded in death by her husband, Billy in 1987, by one brother, Wilkie Parrish in 2021, and her parents.  Those left to treasure her memory are her children, Max (Vanesa), Cindy, Audra, and Caryn; grandchildren, Addison, Kristin, Zachary; great-grandchildren, Samson, Kristian, Nathan, Kingston; one great-great-grandchild, Caleb; and several nieces and nephews.
The family suggests memorials to Retired Senior Volunteer Program, 825 N. Austin St, Plainview, TX or Running Water Draw Care Center, P.O. Box 409, Olton, TX 79064