SAN ANTONIO – The famous and colorful coach Bum Phillips of the Houston Oilers in the 1980's made a statement that stuck with his legendary career after losing to the Pittsburg Steelers on consecutive years in the AFC Championship – "We are coming back, and we're going to kick the damn door down".
Tyler Helms, a former Whirlwind great, had to have similar feelings on his seventh time in the Region 1-3A girls basketball tournament with the Idalou Lady Wildcats. Helms and his gritty Lady Cats finally broke through the toughest region in Texas girls high school basketball by knocking off the No. 1 rated Canadian Lady Wildcats (33-2) 52-39 on Saturday, February 26 at Frenship's Tiger Pit.
Helms is no rookie in getting to the State Tournament, as he took the Idalou boys to Austin on four occasions where he won a 3A State Championship, was state finalist another year, and twice fell in the state semi-finals. He had an impressive 126-30 record with the Wildcat boys before making a pivot over to the girls program in the 2014-15 season.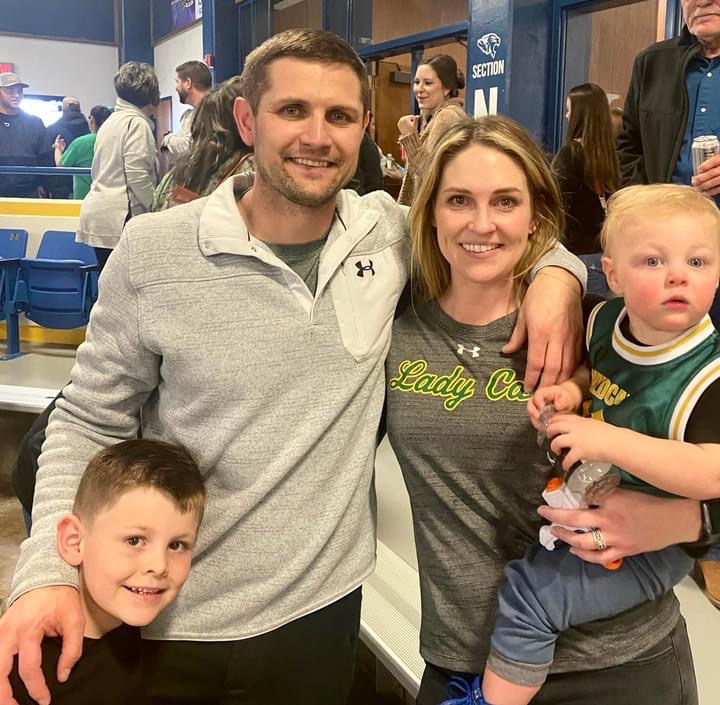 Helms immediately turned the Idalou girls program around by reaching the Region Finals in first year. The season has proved to not be a fluke because the Idalou Lady Cats returned to the Region Finals in 2016, 2019, and 2020. Twice during that tenure Idalou made it to the Region Semi-finals.
In 2021, Idalou had its earliest playoff exit at Area when falling to the Brownfield Lady Cubs 53-51 on a controversial ending of the game. Brownfield went on to win the the 3A State Championship, and it was apparent that "Little Bum's desire" was on fire as much as ever. Tyler did not say that, it's just an observation of mine having known him since his pre-school days.
How does Helms now feel? "It is exciting to finally break through. It is all about our program. The girls that played on the previous teams are very much a part of this team finally making it. It took positive momentum to continually compete with the best."
Helms described his state bound team, "we have size with 6′ senior Taylor Houston (15-ppg and 10-rebounds) and 5'10" junior Logan Heard (20-ppg). Our 3-8 players all play their roles very well. We do not have a starting five, we have a top eight rotation. We have plenty of length on the team."
In that top eight rotation is more height with 6'1 sophomore Kara Fox, plus a duo of 5'10" players in senior Brenlae Wallace and sophomore Finley Jenkins. All of Idalou guards are 5'7′ or better.
Helms first assistant coach is Dana McCandless Fox who grew up in Floydada and graduated from FHS is mid-1990's. Her daughter Kara is on this team. Helms was a multi-sport athlete at Floydada and broadcast Whirlwind sports on KFLP while attending Texas Tech.
There is no doubt Idalou is battled tested of getting through Region 1 by beating Spearman 59-31 at Bi-District; knocked off defending State Champ and No. 3 rated Brownfield 47-41 at Area; ran over Bushland 70-38 in the Region Quarters; took care of No. 4 Peaster 49-31 in the Region Semis; and unseated No. 1 Canadian 52-39 in the Region Championship. In this playoff march Idalou has outscored their opponents by a 55-36 margin.
Idalou will face an experienced No. 2 rated Fairfield Lady Eagles (38-1) in the State Tourney Semis on Thursday at 1:30pm in the Alamodome in San Antonio. Fairfield lost in the championship game to Brownfield 68-64 overtime in 2021. The Lady Eagles have a pair of All-State players returning from that team.
"Fairfield is very talented with a lot of athletic ability. They have some size, but their speed is their strong suit. We are going to have to take care of the ball and utilize our size. We will want it to be a half court game. We have the defense to get it done," Helms described the matchup.
TYLER HELMS coaching career
Boys 126-30 1-State Championship, 4-State Tourneys
Girls 217-55 1-State Tourney, 7-Region 1 Tourneys
3A TEXAS UIL STATE Tourney
(Thursday)
1:30pm No. 8 IDALOU (31-6) vs No. 2 Fairfield (38-1)
3pm No. 6 Winnsboro (31-5) vs No. 10 Bishop (33-6)
(Saturday)
10:00am 3A Girls State Championship
OTHER WEST TEXAS teams at Girls State Tournament
(5A – Thursday)
8:30pm No. 4 AMARILLO HIGH (32-5) vs. No. 3 Frisco Memorial (36-5)
(1A – Thursday)
10:00am No. 1 SANDS (35-3) vs. No. 3 Huckaby (35-6)
(2A – Friday)
8:30am No. 1 GRUVER (31-0) vs No. 20 San Saba (31-7)
10:00am No. 13 STAMFORD (35-2) vs No. 2 Martin's Mill (36-3)
Stamford is from Region 2
STATE CHAMPIONSHIPS Schedule on Saturday
8:30am 1A
10:00am 3A
1:30pm 2A
3:00pm 5A
7:00pm 4A
8:30pm 6A