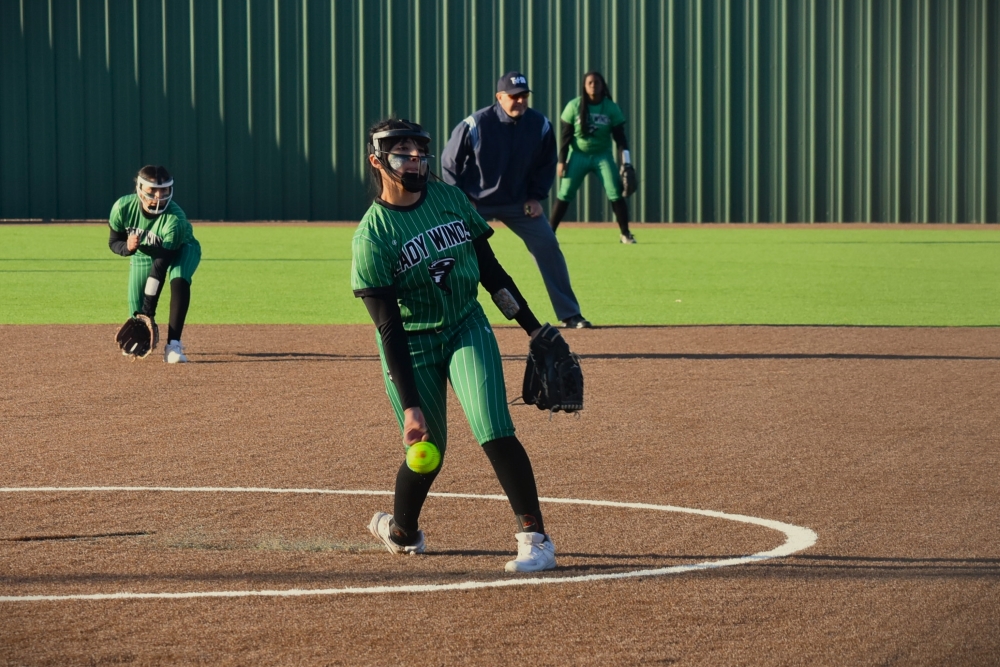 Senior Erin Trevino pitching to the Littlefield Wildcats on March 8, 2022 at Lady Winds Field. (Ryan Crowe/FCR)
FLOYDADA – Senior ace Erin Trevino and the Floydada defense kept the Littlefield Lady Cats in check the entire game until the the Lady Winds offense errupted with seven runs in the fifth inning that lead to a 10-0 win at Lady Winds Field on Tuesday evening.
Trevino and Littlefield freshman Natalia Sanchez were having a pitcher's duel for the first four innings. Each pitcher ended up throwing six strikeouts for the game, but Trevino (13-1) endured longer by hurling a two-hit shutout. It was Trevino's fourth shutout performance of the season in the circle. Sanchez eventually got roughed up the Lady Winds bats with 10-hits, including seven when Floydada sent 12-batters to the plate in the explosive fifth frame.
Trevino helped her cause by going 3-4 at the plate and driving in a pair of runs including the first run of the game in the fourth inning. Sophomore Carissa Fernandez filled up the stat sheet by going 4-4 including a triple, double and scored three runs. Trevino and Fernandez bat in the three and four positions of the Floydada (14-2-1) lineup that produced a total of 13-hits as a team.
This was the second time Floydada had defeated Littlefield (5-3) this season. The Lady Winds won 7-1 in the Tahoka Tournament on February 24.
LITTLEFIELD – 0 0 0 0 0 0 – 0 2 2
FLOYDADA – 0 0 0 1 7 2 – 10 13 1
WP – Erin Trevino (13-1), LP – Natalia Sanchez
records: Floydada (14-2-1), Littlefield (5-3)
triple (1) – Carissa Fernandez
doubles (3) – Fernandez, Marissa Obregon, Trevino
singles (9) – Fernandez (2), Trevino (2), Claria Delafuente, Analise Perez, Reyna Sanchez, Kirsten Pyle, Kaley Garza
RBI – Perez (3), Trevino (2), Obregon, R. Sanchez, Garza
NEXT: Tuesday, March 15 – District 3-2A opener vs New Deal at Lady Winds Field
Saturday, March 19 – Game 2 of District series at New Deal's diamond
DISTRICT 3-2A Softball started on Tuesday, March 8
Ralls 20 Lockney 0
New Deal 15 Hale Center 1
Sudan 13 Sundown 3
Floydada 10 Littlefield 0 (non-district)
DISTRICT 3-2A Softball standings and season records
Ralls 1-0 10-3
Sudan 1-0 2-0
New Deal 1-0 1-0
Floydada 0-0 14-2-1
Sundown 0-1 4-3
Lockney 0-1 4-4
Hale Center 0-1 2-3
DISTRICT 3-2A Schedule, Sat., March 12
Lockney @ Ralls
New Deal @ Hale Center
Sudan @ Sundown
Floydada – open