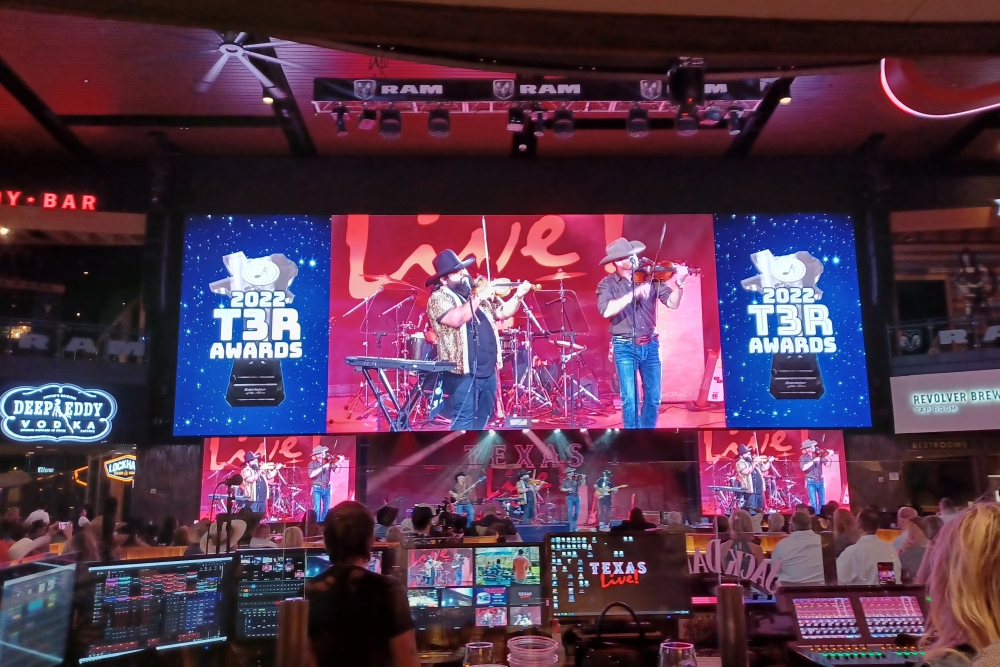 Kin Faux and Scotty Alexander in a 'fiddle off' at the Texas Regional Radio awards show on Monday, March 28 at Texas Live! in Arlington. (Ryan Crowe/FCR)
PLAINVIEW – Kin Faux, the San Antonio-based band that put Plainview on the Texas Country map, are playing their very first show in the city Thursday night at the historic Fair Theatre downtown. The concert comes just three days after winning the "Best New Band/Duo" award at the Texas Regional Radio Awards in Arlington.
Kin Faux's song "Plainview" reached number one on the Texas Regional Radio chart late last year, and was their second song to hit the top after the swinging "Honky Tonk in Heaven" got there in April 2021.
MORE: Kin Faux to play Plainview's Fair Theater
The band is currently number four in Texas Country Radio with "Wild Horses", a song that features veteran singer Terry McBride.
"We're excited to show Plainview what we've got" lead singer Rico Gonzales said at Monday's awards show.
The band performed two numbers at that show, including a dual-fiddle cover of "Devil Went Down to Georgia" that brought the 800-plus crowd at Texas Live! to their feet.
"We are going to bring that same energy to you," bassist Ross Barkey promised for Thursday's show.
Kin Faux will be joined at the Fair Theatre by Oklahoma-based trio Ragland. Their song "Call My Bluff" is also currently climbing the radio charts.
Tickets for the 7:00 p.m. show are $15 at the door or $10 in advance at EventBrite.com.