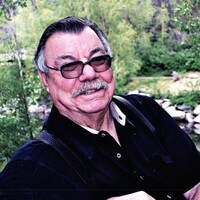 Ted Samples (Plainview)
Teddy "Ted" Roy Samples, age 89, a proud veteran of the Navy, passed away on Sunday, March 27, 2022. The son of Charles Homer Samples and Reta Merle Weathers, Ted grew up in Lockney, Texas where he received his High School diploma. While planning for the future, after High School, he intended to grow a cotton crop near his home in Lockney but when that didn't pan out, he enlisted.
Ted is survived by his wife Diana Samples of Plainview; his sister Jody Wise Black and her husband Mark; his children Sandy Sosebee and husband Michael, Cindy Stauffenberg and her husband Gary, Micheal R. Samples and his girlfriend Connie Fisher, David Samples and his wife Tina; his stepchildren Pam Lloyd and her husband Drew,  Mark Lansdon of Lubbock; 12 grandchildren, 8 great-grandchildren and one more due to arrive any day now.  He is preceded in death by his first wife Mona and his brother Charles.
At the age of 18, Ted enlisted in the Navy. He served in Guam during the Korean War. On May 20, 1977, Ted received his Associate in Arts from Bismarck Junior College in North Dakota. Then on August 4, 1989, he received his Bachelor of Social Work from the University of Wyoming.
Ted held Church services on Sunday at whatever venue they were at, and he liked to say that he preached at some of the nation's largest stadiums. He later became a Language Missionary with Home Mission Board, Southern Baptist Convention. He also pastored and planted churches in Wyoming, Montana, North and South Dakota, Michigan, and Texas.
Other careers that Ted enjoyed included being a fireman with the Lubbock Fire Department and a Safety Inspector with the Gulf Insurance Company, Ted was the one who approved the buildings at the World's Fair in San Antonio. For years, when they were younger, Ted and his first wife, Mona, traveled to craft shows across the nation, occasionally selling their sandblasted scripture signs, but they usually ended up just giving them away.
A few years after Mona passed away on September 5, 2005, Ted returned to Plainview to spend time with friends and family.  He attended church with them at Trinity, where Diana was a member, then went out to eat at a local restaurant. Little did he know, Diana was there as well, their mutual friends introduced them and the rest, as they say, was history, about a year later, on September 25, 2007, they were married. Their blended family is spread far and wide across the states but Ted's love for each one of us was far greater. Ted loved spending time with his family and sharing the word of God. His prayers were always a beautiful reminder that the words we speak hold power.
Ted's family would like to thank the nurses and staff of Cornerstone Caregiving, Plainview Fire Department, and Plainview EMS for their service.
A private service for the family will be held in Ted's memory. In lieu of flowers please donate to your charity of choice. Arrangements are entrusted to Lemons Funeral Home.