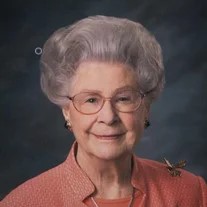 Frances Turner Tubbs Pierce (Lubbock)
Verda Frances Turner Tubbs Pierce was born on Sept. 14, 1921, in the Lakeview Community of Floyd County, Texas. She passed into the next life on April 23, 2022, due to natural causes. She was 100 years and 7 months young and had lived in Lubbock for 82 years.
Frances grew up in the communities of Starkey, Fairview, Sandhill, and Campbell, Texas, and graduated from Floydada High School.
She and her high school sweetheart, Richard Irwin Tubbs, both attended Texas Tech University and married in December 1940. Richard enlisted in the U.S. Air Force in 1943. Lt. Tubbs was killed in action in the Pacific front on Jan. 29, 1945, only 4 months after their daughter was born.
Frances later married Army Captain L.G. Pierce, Jr. on Nov. 24, 1946. They spent 51 loving years together and had a son together.
Frances was involved in Gold Star Wives of America, CBI Wives Club, Camp Fire, Cub Scouts, PTA, and the Lubbock Women's Club. She was also a life member of the Methodist-Covenant Hospital Auxiliary, with which she spent 17 years volunteering.
She was an active member of First United Methodist Church since 1945, where she was a member of the Friendship Sunday School Class for 65 years.
Frances was preceded in death by her parents, Wheeler and Irene Turner, her brother, Loyce Turner, both her husbands, Richard Tubbs and L.G. Pierce, her son, Larry, and her granddaughter, Tami Renee' Pierce.
She is survived by a daughter, Laney, and her husband, Travis, of Lubbock, grandson Doug Hood and his wife Ashley of Grapevine, granddaughter Kerrie Kutsor and her husband Mike of Noblesville, IN, and great-grandchildren Phillip and Helen Hood of Grapevine and Aidan Kutsor of Noblesville, IN.
A visitation will be held on Wednesday, April 27 from 3:00 – 4:30 p.m. at the Carillon Senior Living Center Chapel. A private family graveside service will be held Thursday, April 28. In lieu of flowers, donations can be made to Hospice of Lubbock at 3702 – 21st St, Lubbock, TX 79410 and Carillon Foundation at 1717 Norfolk, Lubbock, TX 79416.