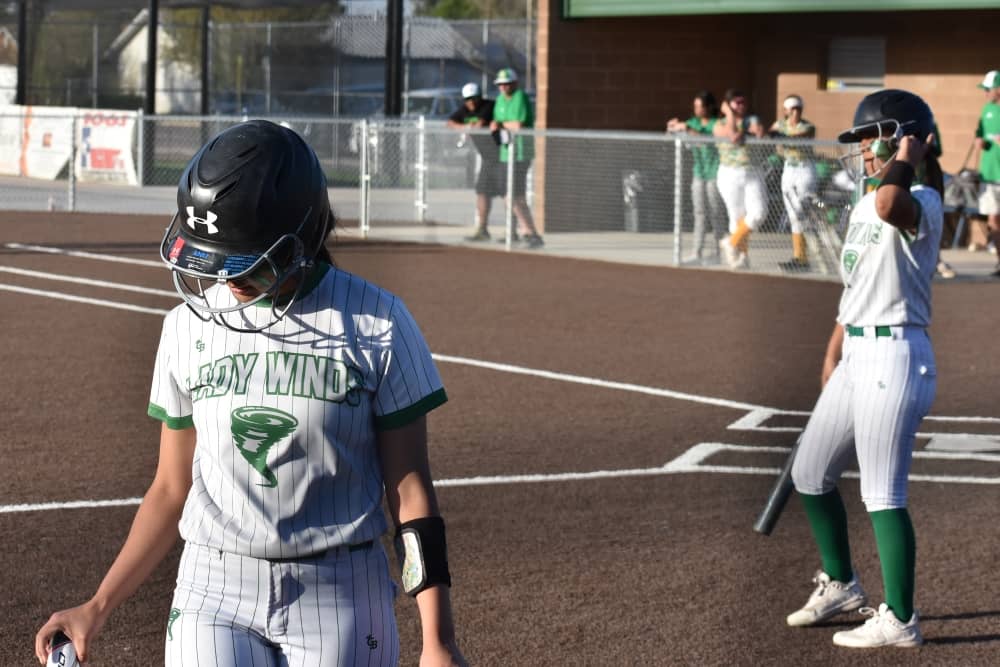 The Floydada Lady Winds lost a playoff warm-up game to the Idalou Lady Wildcats on April 26, 2022. (Ryan Crowe/FCR)
FLOYDADA – Something had to give on Tuesday night at Lady Winds Field when the Idalou Lady Wildcats with a 16-game winning streak, and the Floydada Lady Winds cruising along with 15-straight victories met in a playoff warmup game. Idalou first baseman Hallie Van Beekham knocked two homeruns in the centerfield vicinity, while third baseman Teresa Mendez sailed one out over leftfield to power the Lady Wildcats to an 11-1 win. The duo ended up with seven RBI between them.
The 2A Number 3 ranked Floydada (26-3-1) won the District 3-2A Championship for the second straight season while the 3A Number 14 ranked Idalou (20-5) claimed the District 2-3A title.
The Lady Cats outhit the Lady Winds 8-6 for the game in a great pitching duel between Idalou junior Belle Arguello and Floydada senior Erin Trevino. Arguello threw 10-strikeouts to raise her season total to 217-K's, while Trevino recorded 7-strikeouts to make her season total at 184.
Idalou will start their playoffs on Thursday against the Canadian Lady Wildcats. Floydada will play the Post Lady Antelopes in a best-of-three Bi-District series at Lubbock Roosevelt. Games 1 and 2 will be a double-header on Thursday beginning at 5:00 p.m. Game 3, if necessary will be on Saturday at 6:00 p.m. KFLP 900AM will have the radio broadcasts of all games.
IDALOU – 3 0 1 0 0 4 3 – 11 8 1
FLOYDADA – 0 0 1 0 0 0 0 – 1 6 3
WP – Belle Arguello (13-5), Erin Trevino (24-1)
records: Idalou (20-5), Floydada (26-3-1)
HR – (IDA) Hailee Van Beeckham (2), Teresa Mendez
Doubles- (IDA) Mendez, Katelyn Turner, (FLO) Analise Perez
Singles – (FLO) Dani Zavala (2), Marissa Obregon, Kailee Sanchez
2A Softball playoffs of 3-2A vs 4-2A this week
Floydada (26-3-1) vs Post (6-15)
Ralls (18-7) vs Tahoka (15-6)
Sundown (11-8) vs Colorado City (17-5)
New Deal (6-6) vs Forsan (15-8)