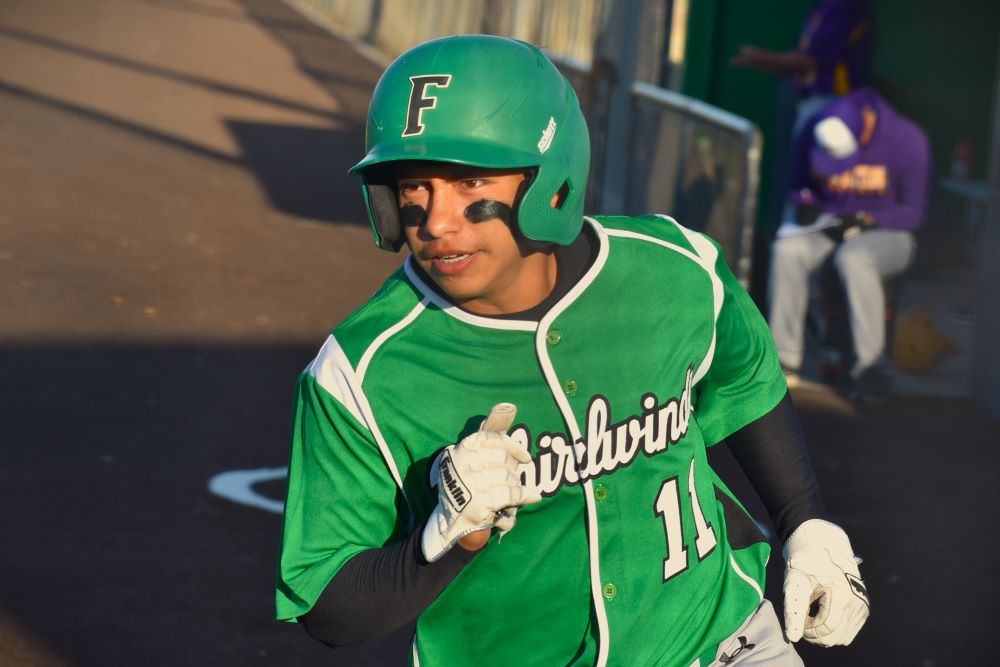 The Floydada Whirlwinds topped the Crosbyton Chiefs 8 to 5 Tuesday at Watson Field (Ryan Crowe/FCR)
EARTH – Ties are unique in high school baseball games, except tournament play when games are on a time limit. Tuesday, Floydada and Springlake-Earth coaches agreed to seven innings of play since it was a non-district game and it ended up a high scoring 12-12 tie.
The game had six lead exchanges before each squad scored four runs in their final-at-bat in the seventh inning. Floydada out hit Springlake-Earth 9-5, plus the Wolverines committed four more errors than did the Whirlwinds. Matthew Luna and Kyler Gillespie got two hits apiece to lead the Whirlwinds.
Floydada can potentially play another game on Monday with the Post Bold Gold Antelopes at Abernathy, if Post sweeps its two game series with the winless Olton Mustangs at end of this week.
Post beat Olton 15-5 on Tuesday. Whoever wins the No. 4 seed from 3-2A will face the No. 13 state rated New Home Leopards (22-2), champions of district 4-2A in the Bi-District playoffs.
FLOYDADA – 1 0 3 1 2 1 4 – 12 9 4
SPRINGLAKE-EARTH – 2 0 4 0 0 2 4 – 12 5 8
record: Floydada (8-12-1), Springlake-Earth (6-6-1)
Floydada stats:
Double – Izaiah Alvarado
Singles – Matthew Luna (2), Saul Reyes, Alvarado, Andres Mendoza, Donovan Rocha,
Davian Ramos, Kyler Gillespie
3-2A Baseball results from Tuesday
Floydada 12 Springlake-Earth 12 (tie in a non-dist game)
Lockney 7 Ralls 6
New Deal 9 Hale Center 3
Post 15 Olton 5
3-2A Baseball standings
New Deal 10-1 15-4 (clinched No. 1 seed)
Ralls 9-2 14-9 (clinched playoffs)
Lockney 9-3 15-6 (clinched playoffs)
Floydada 5-7 8-12-1
Post 4-7 5-13-1
Hale Center 3-8 7-11-1
Olton 0-11 0-12