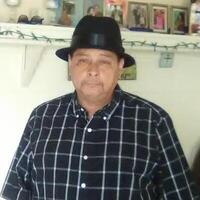 Raymond Castillo (Plainview)
Raymond Castillo, age 54, passed away on May 20, 2022, in Amarillo. A Viewing will be held at 3:00 pm on Thursday, May 26, 2022, at Lemons Memorial Chapel. A Celebration of Life Service will be held at Trinity Life Church at 11:00 AM on Friday, May 27, 2022, in Plainview. Arrangements are under the direction of Lemons Funeral Home.
Raymond Castillo was born on August 16, 1967, in Lockney, Texas to Delfino F. Gomez and Apolonia L. Gomez. At 8 years old, Raymond was adopted by Frank and Margaret Castillo. He married Yolanda Castillo on May 7, 1983, in Plainview, Texas, and started a beautiful family.
Raymond was an avid San Francisco 49ers fan. He liked going fishing and having cookouts. He was an early bird, he would wake up, drink his coffee, smoke his cigarette, and watch his western movies. There probably isn't one western he hasn't seen. Most importantly, he loved his wife, and his family until the very end.
Raymond was loved dearly and will be missed by his wife, Yolanda Castillo; his three sons: Isidro and Kristal Castillo of Amarillo, Raymond Castillo, Jr., and Alonzo Ray and Maria Castillo of  Plainview;  his three daughters: Krystal Castillo of Odessa, Rose Anna and Nolberto Citalan and Mari Cruz and Albert Borrego all of Plainview as well as his twenty-three grandchildren and six great-grandchildren;  three brothers: Raul Gomez of Corpus Christi, Ricky Gomes of Japan and Ambrocio Gomez of Odessa; three sisters: Biolanda and William Villas of Mathis, Marta and Jose Salazar of Plainview and Erika and Arturo Lujan of Midland.
He is preceded in death by his birth parents, Delfino F., and Apolonia L. Gomez, three brothers: Delfino Gomez, Jr., Nival L. Gomez, and Saul L. Gomez; one sister, Linda Sue Jarvis.