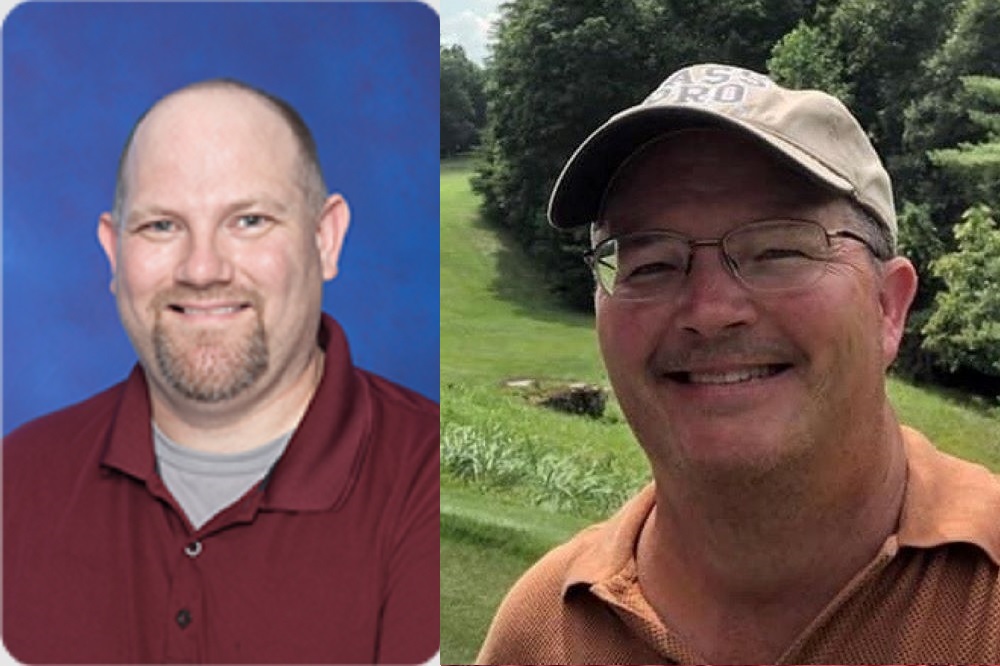 Brian Jones (Left), was named the new principal at Lockney Junior High upon the retirement of Craig Setliff (right) on June 6, 2022.
LOCKNEY – This fall Lockney Junior High will be led by a man who once walked the halls of the school as a student.
On Monday the district announced Dewayne Jones would be returning to the district he graduated from in 1997 after a 14-year stint as an educator in China.
The district posted the following on their social media:
Lockney ISD is excited to welcome Dewayne Jones home to serve as the Junior High Principal. Mr. Jones, his wife Carrie, and their twelve-year-old son, Laston, will be returning to the U.S. after serving students and families in China for the past fourteen years.

Mr. Jones is a 1997 graduate of Lockney High School. He holds a Bachelor of Science in Mathematics from Howard Payne University and a Master of Educational Leadership from Southeastern Oklahoma State University. His seventeen years of educational experience include teaching engineering math at the collegiate level, teaching high school math, serving as a middle school assistant principal, and serving as a middle school principal.

Mr. Jones is quick to point out the importance of his supportive wife, Carrie, who has eighteen years of experience as a mental health therapist and has counseled kids, teens, and adults in a variety of issues. In addition to these experiences, Mr. and Mrs. Jones have been blessed to raise Laston, who is autistic and non-verbal. They believe this has taught them much about compassion and patience. We believe the Jones' will bring a tremendous servant mission to our school and community.

Mr. Jones said he cannot convey how excited he and his family are to return to Lockney. He is appreciative of the fact that this little town helped him develop a strong work ethic, the value of community, a determination to succeed, and strong moral compass. He looks forward to providing those same opportunities for our students. He is committed to providing the children of Lockney with a safe environment where students want to come to learn, a place where staff want to come to work, and a school where parents are proud to send their children.

The Jones' feel privileged and blessed to have had amazing experiences abroad and they trust that these experiences will serve them well upon their return. Mr. Jones also wants the residents of Lockney to know that he is thrilled to have the unique opportunity to give back to the community that he still calls home. "I am honored to accept the role of Junior High principal and to be a servant to your children and to LISD."

Welcome home, Mr. Jones. We are looking forward to you and your family helping this school and our little community continue to rise!
With the news of Jones' hire, the district also said goodbye to longtime Junior High principal Craig Setliff, who retires on Wednesday.
We would like to thank Mr. Setliff for his eighteen years of service to this district and for the example that he has set for students and staff alike.

As you end this chapter and begin a new one, please know that you are appreciated and loved. May you be blessed as you continue to serve and bless others.

Job well done, my friend. We will miss you.