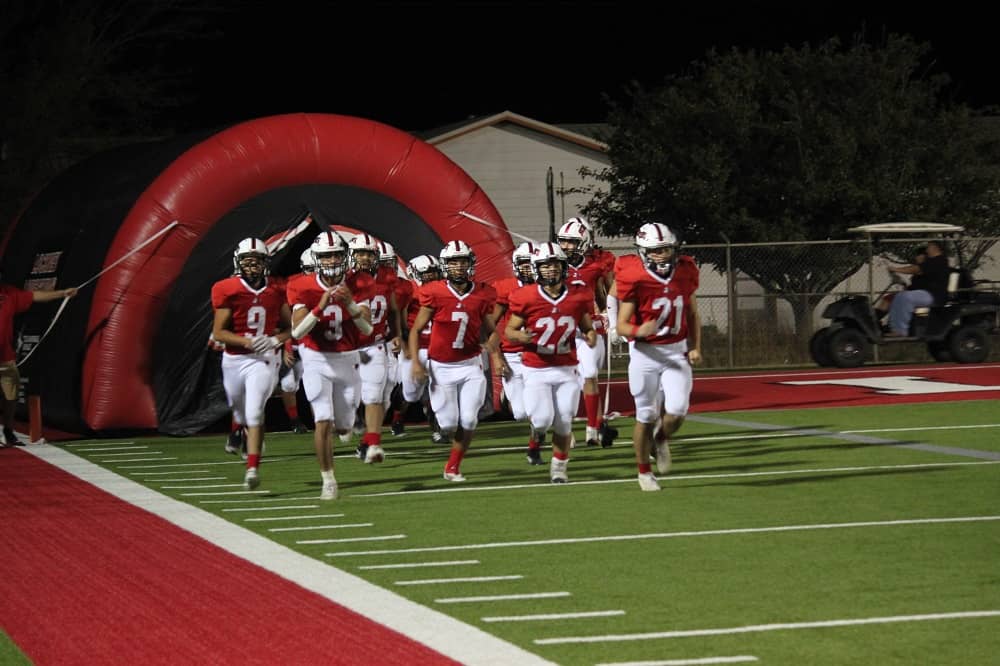 The Lockney Longhorns run out of the tunnel after halftime of their Homecoming game against the Memphis Cyclones on Oct. 8, 2021. (Alex Driggars/Floyd County Record)
LOCKNEY – As the heat of summer drags on, the sounds of fall will soon be heard as the Lockney Longhorns football team gears up for the 2022 season.
The Longhorns have had back-to-back playoff teams with records of 7-4 in 2021 and 7-3 in 2020. Despite losing a large class of 14 players to graduation, the talent pool is not empty for Coach Jonathan Thiebaud. The recently-installed Athletic Director estimates six offensive starters and seven of his defensive guys are returning to provide leadership.
For the first time in four years, the Longhorns will not have the services of Pablo Morales as the starting quarterback. But, there is promise in sophomore Dyllan Thiebaud to take the reins. Thiebaud is a very versatile athlete, and was named "Newcomer of the Year" in district 3-2A baseball as a top notch pitcher and catcher this spring. That kind of player should parlay into a good quarterback.
The top running backs are expected to be sophomore Xavier Jimenez and junior Iann Rodriguez, who have both had bright moments in Lockney athletics. Jonathan Cienfuegos and Malaki Alvis, a pair of senior tight ends that both stand over six-feet tall, will make easy to find targets for the younger Thiebaud.
Lockney has returning experience in the trenches on both offense and defense, which is always a plus. The linemen include Jisiah Lara, Adrian Hernandez, Jeremiah Hernandez and Dax Poole. Coach Thiebaud will continue to be the defensive coordinator along with his new head coaching responsibilities. Chris Mann will be the coordinator calling plays for the Longhorns offensive attack.
Day one of preseason football is next Monday, August 1, with the first day in full pads set for August 8. The first controlled scrimmage against an opponent will be August 11 with Lockney going to Sanford-Fritch.
The Longhorns will open the 2022 season on August 26 at Mitchell Zimmerman Field with a tough test against the Seagraves Eagles. Seagraves was 8-4 last season and advanced to the Area round in the playoffs.
Dave Campbell's Texas Football (DCTF), the trend setter when it comes to predicting the upcoming Texas high school football season each year, anticipates the Longhorns will be fourth in the new District 3-2A-11 behind the Ralls Jackrabbits. The Bovina Mustangs and Sudan Hornets are the district's other playoff picks at second and third.
DCTF 3-2A-II picks and 2021 records:
1. Ralls 8-4
2. Bovina 4-7
3. Sudan 2-8
4. Lockney 7-4
5. Hale Center 3-7
6. Crosbyton 4-7
DCTF Preseason District MVP's
Offense – RB Darion Delarosa, Bovina
Defense – DB Zaiah Riojas, Ralls