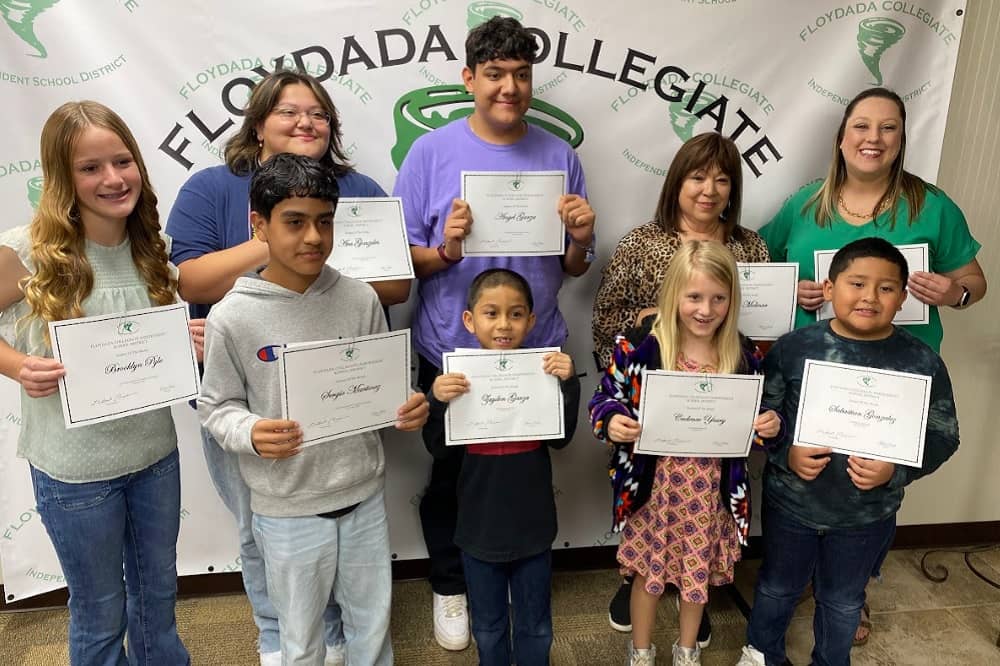 FCISD Students and teachers recognized during Tuesday's board meeting (L to R - First Row: Sergio Martinez, Sebastian Gonzales, Cadence Yeary, Zayden Garza. Second Row: Brooklyn Pyle, Ava Gonzales, Angel Garza, teachers Mary Molinar and Jennifer Emert)
FLOYDADA – The Floydada Collegiate Independent School District is making the grade when it comes to money. On Tuesday night the district learned they had received a 'clean audit opinion' and an 'A' rating from the state on recent reviews of their finances.
The first bit of good news came from representatives of Lubbock-based Bolinger, Segars, Gilbert & Moss, the audit firm the school contracts with. The auditors told the FCISD board that every aspect of the district financial situation was scrutinized, and that no issues were found. According to the auditors the district has more than 12 million dollars on hand, and that while local revenues were down due to lower property taxes, state funding was continuing to help the district.
The highlight of the audit was that the district would be able to operate for 54 weeks without any additional income, officially putting them in 'Healthy Fund Balance' levels according to the state. That played into the state giving the district a 92 on the School Financial Integrity Rating System of Texas or FIRST report. Asked afterward about the reports, Dr. Gilbert Trevino told the Record he was very pleased with the news. "The district is doing pretty good. It's always a good feeling to know we're doing well."
Earlier in the meeting the district principals recognized students and educators of the month, with Monica Smith of A.B. Duncan recognizing Second Grade Math teacher Mary Molinar and students Sebastian Gonzales, Candace Yeary and Zayden Garza. FCHS principal Dara Ware recognized Chemistry teacher Jennifer Emert along with Brooklyn Pyle, Sergio Martinez, Angel Garza and Ava Gonzales.
Tuesday's board meeting ended with the Superintendent's report, where Dr. Trevino discussed the options of asking the city and little league for input on adding lights and a revamped scoreboard to the baseball team's Watson Field and the idea of the district looking into purchasing available housing in the city as a way to recruit and retain teachers.
The next FCISD board meeting is set for December 15 at 7:00 p.m.