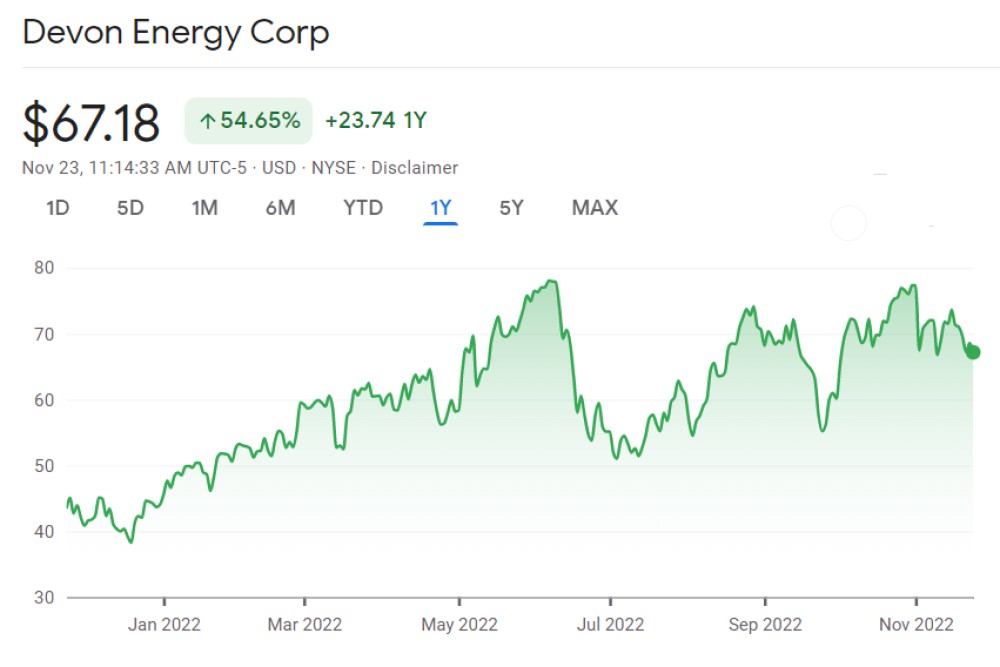 https://www.google.com/finance/quote/DVN:NYSE
Black Gold, Texas Tea, Bubblin' Crude – whatever you call it, at this point, oil still makes the world move. Energy has been the best-performing market sector year to date, with an increase of 65%, compared to the S&P 500's decline of -15% as of November 15th. Devon Energy is an independent energy company engaged in the exploration, development, and production of oil and natural gas that has returned 75% year to date. And with an $80.48 price target, Devon Energy still has room to run.
Devon Energy is based in Oklahoma City, Oklahoma, on the S&P 500 index, and concentrates its operations in five oil and gas play in the U.S. DVN explores the Anadarko Basin, Delaware Basin, Eagle Ford, Williston Basin, and Powder River Basin, which include the states of Oklahoma, Texas, New Mexico, North Dakota, and Wyoming. 49% of what they recover is oil. The rest is natural gas and other gas liquids.
Like most oil and gas companies, Devon's stock price is influenced by the rise and fall of oil prices. Oil has traded anywhere from a low of about $62 per barrel to about $130 per barrel in the last year. With oil trading at about $80.00 per barrel, DVN stock has followed. Devon is in a longer-term uptrend with its stock price, and its 50-day moving average is above its 200-day moving average price, which is usually bullish. Devon's stock hit a 52-week low of $35.55 last December and a 52-week high of $79.40 in June.
Devon Energy has a fixed plus variable dividend policy. They have a current fixed dividend of 18 cents per share but have decided to pay out 50% of their earnings to shareholders as dividends. The latest declared dividend is $1.35 per share, payable on December 30, 2022, to shareholders of record on December 12, 2022. Counting this plus the last 3 dividends, Devon will have paid out $5.17 per share for the year. The current price when writing this of $69.62 gives you a yield of 7.43%.
This payout and yield will vary depending on Devon's earnings, which greatly depend on the oil price. However, if you can handle a fluctuating income stream and think the price of oil and gas will stay high for the foreseeable future, Devon might be worth a look.
To help determine if Devon is inexpensive, we can look at a couple of ratios. Devon has a Price/Earnings (P/E) ratio of 7.3 compared to the market average of 21.03 (as of November 11, 2022). Also another valuation measurement is the PEG ratio. This shows how fast the company is growing (the G) compared to its P/E ratio). The lower, the better, and Devon has a PEG of .19. Anything under 1.00 is usually considered inexpensive. Devon is still in the upper range of its recent price history, so it may pay to wait for a pullback before jumping in. However, you will need to own the shares before December 12th to receive the most recently announced dividend. You decide what works best for you.
As always, do your due diligence before buying any stock. Full disclosure, I do own Devon Energy in my portfolio. Sources include Schwab and Yahoo Finance.
(Intentional Investing is a weekly column written by Kyle Smith from Floyd County, TX, based upon his investment knowledge and does not represent the views or opinions of the Floyd County Record. You can reach Mr. Smith via email at insureddividends@gmail.com)