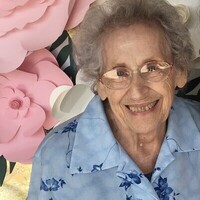 Wanda Smith (Lockney)
Wanda Lee Smith, age 89, of Lockney, passed away on Sunday, March 5, 2023. A Graveside Service will be held at 1:00 p.m., Wednesday, March 8, 2023, at the Lockney Cemetery.
Wanda was born on April 13, 1933, in Lockney, Texas, to Lee Johnson and Geniva (Pyle) Johnson. She had many interests and hobbies, including quilting in her free time, playing chicken foot, and spending time with her family. She was also a very devoted member of the Church of Christ.
Those left to cherish Wanda's wonderful memory are her husband; Lynn Smith, daughter; Becky Knowles, son; Garry Smith, Grandsons; Michael Knowles, Brandon Knowles, and Shannon Bailey, her granddaughters; Mandy Jones and Kelly Winegardt, five grandchildren; and ten great-grandchildren.