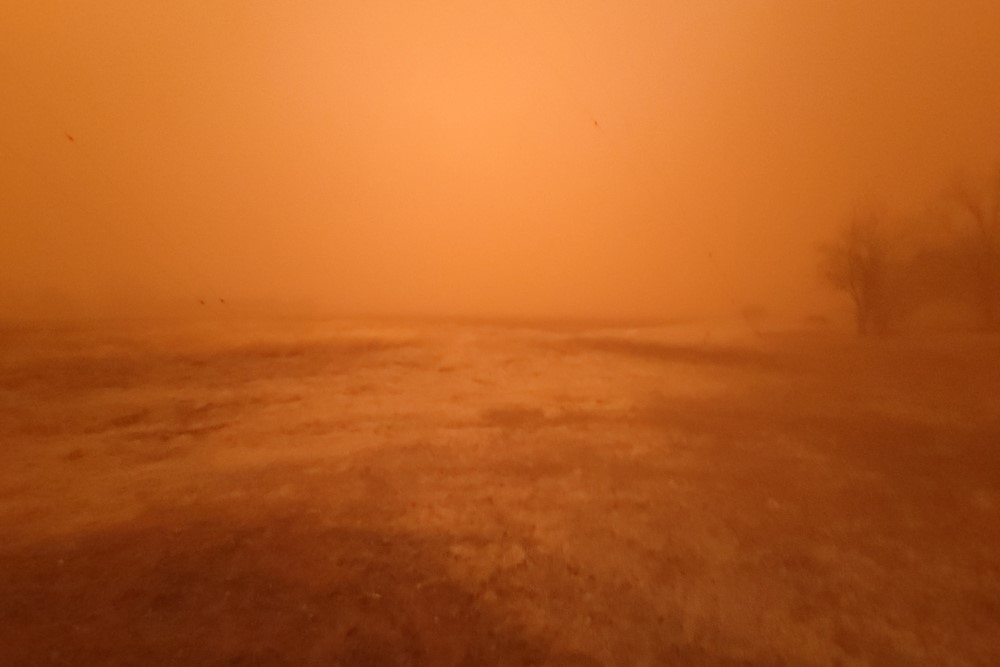 A field in central Floyd County (TX) on February 26, 2023 at 6:12pm, as high winds turned the sky black and just prior to no visibility (FCR Photo)
WACO, TX – How frustrating is it to experience a weather disaster that wipes out your crop, yet you watch government crop condition ratings improve?
That's been a thorn for southern High Plains producers over the past few years as they watched their dryland cotton crops fail to emerge or a winter wheat crop blow out in high winds.
Wil Hundl is with the Southern Region of USDA's National Agricultural Statistics Service (NASS) and explains that when a crop disappears (also known as abandonment), so does its ability to affect condition ratings.
For example, on 100 acres of winter wheat, half of the acres are very poor, one quarter is fair to good, and the remaining quarter is excellent; then the weekly Crop Progress Report would reflect the values with 50 percent very poor, 25 percent fair to good, and 25 percent excellent. If the poor acres disappear – for whatever reason – and the rest of the crop doesn't change, the new condition ratings reflect 50 percent in fair to good and 50 percent in excellent condition.
Though it may not seem logical, Lance Honig with NASS in Washington, DC, says that the Weekly Condition ratings can only reflect what is in the field, while the Crop Production Report would better reflect what has been planted and lost.
USDA releases its Crop Ratings report weekly on Monday afternoon. The next major crop report comes on March 31, 2023, when NASS reveals their preseason expectation for acreage this growing season.
(SOURCE: All Ag News)