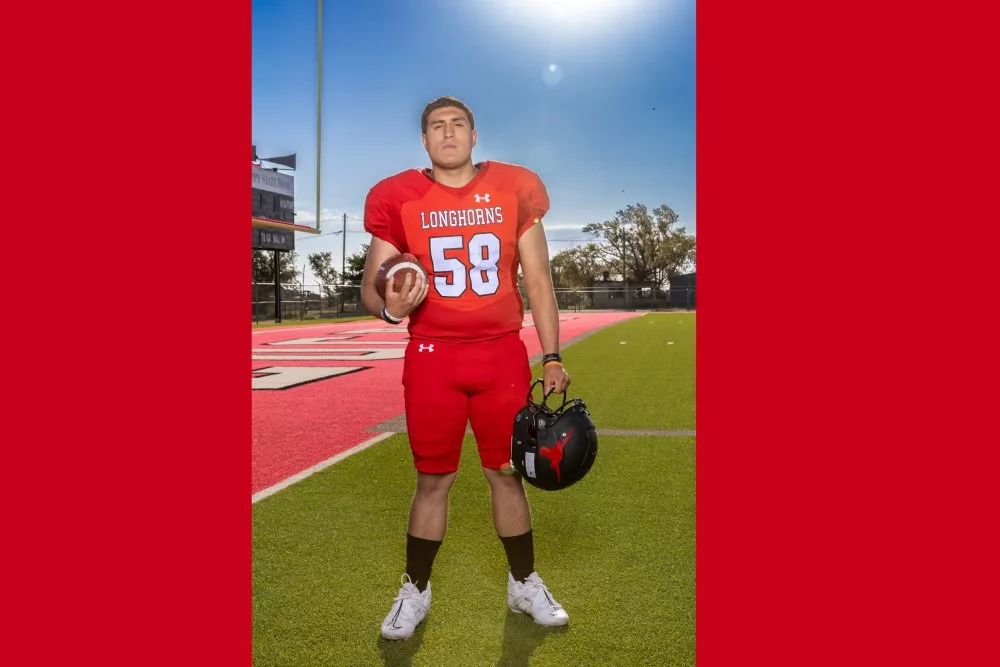 LOCKNEY, TX – Floyd County Record continues to spotlight the athletes that represent Floyd County, including Lockney's Jisiah Lara.
Jisiah is a senior at Lockney High School and is entering his fourth year on the Longhorn varsity football team.
Lara is a linebacker and left tackle for the Longhorns.
What is something that you think is important to the success of the team?
"Staying motivated and playing at a higher level, with each step we take, we take one step forward. After our win against Seagraves, we've taken one step in the right direction, and it's important that we keep our mentality in the right place and don't get negative. That's one of the biggest changes from last year to this year; we aren't as mean to each other, but instead we are more of a brotherhood now than it was last year."
As a senior, what are some things that you do to help the underclassmen?
"I try to help them as much as I can. When I learn anything, whether it's from the coaches or from outside of football, I try to bring it in here and bring that positivity to help the underclassmen grow and develop to keep the program growing in the right direction so that we don't take a step back."
What is something about football that you enjoy?
"Building a brotherhood with my teammates is something that I appreciate. We each deal with a lot of struggles in life outside of football, but when we come here, we are a brotherhood that is there to help support one another. I believe that even 5–10 years from now, I'm always going to look back and think about my brothers."

Do you want to pursue football outside of high school?
"If I get the opportunity, I will try to compete at the next level; my mom has always told me, if you ever get an opportunity, step on it."
Who are some of your role models or mentors that you look to?
"There's only really one person that I have looked up to as a mentor for all four years and have had a good personal connection with: Coach Thiebaud. Even though we've had a losing season in the past, he has always kept us on a positive note. He is always pushing us to get to the next step, and he never accepts anything less than our best. Our expectations are set high, and he never lowers them. That is something that I live my everyday life with; I will never lower my expectations now."