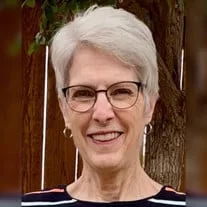 Linda Jane True (Lubbock)
Linda Jane True, 74, of Lubbock, passed away peacefully at her home on Wednesday, November 1, 2023. A visitation will be held Thursday, November 9, 2023, from 5 to 7 p.m. at Sanders Funeral Home. A celebration of life will be held at 1 p.m. Friday, November 10, 2023, in the Wesley Chapel at LakeRidge Methodist Church with the Rev. Brian Brownlow officiating.
Linda Jane Smith was born on April 28, 1949, in Plainview, Texas, to Morris and Kathryn Smith. While growing up in Plainview, Linda enjoyed bowling with her dad on Sundays, helping him in his woodshop, and learning how to sew and cook with her mother. Linda graduated from Plainview High School in 1967 and married her high school sweetheart, David True, on June 21, 1969. Linda attended Texas Tech University from 1967-1969. David and Linda lived in eight cities across five states and two countries. Linda proudly worked at Texas Tech for 28 years at the Health Sciences Center, College of Agricultural Sciences, and the Office of Research Services until her retirement in 2014. In 2005, she received the Top Techsan award, the highest honor given to staff at Texas Tech.
Linda was a member of LakeRidge Methodist Church for over 35 years, where she played in the handbell chorus. She was involved in many church ministries, including the Four Corners Native American Ministry and Change for Children, which was especially dear to her heart. In 2021, she held a garage sale at her home and donated 100% of the profits to Change for Children.
Linda will be remembered for her selfless nature, patiently putting others before herself and making thoughtful gestures to friends and family. She was incredibly talented at needlepoint artistry and proudly left behind many pieces stitched with love. Some of Linda's favorite things were new socks, of which she had a pair for every holiday and occasion, the big blue skies of West Texas, cheering on her Red Raiders, and being Nana to her grandkids.
Linda was preceded in death by her lifelong love, David, and her sister, Carol Ann Elliott.
Survivors include son Blaine of Waxahachie, Texas; daughter Larissa True Plumlee and husband Eric Plumlee of Las Cruces, NM; beloved grandchildren Brecken and Sydney True; brother-in-law Bill Elliott; niece Laura Elliott Theis; nephew Patrick Elliott and wife Jayne; "The Adorables," a close group of friends in Lubbock; and numerous extended family members and friends. Memorials may be made in Linda's name through LakeRidge Methodist Church for Change for Children and Hospice of Lubbock.