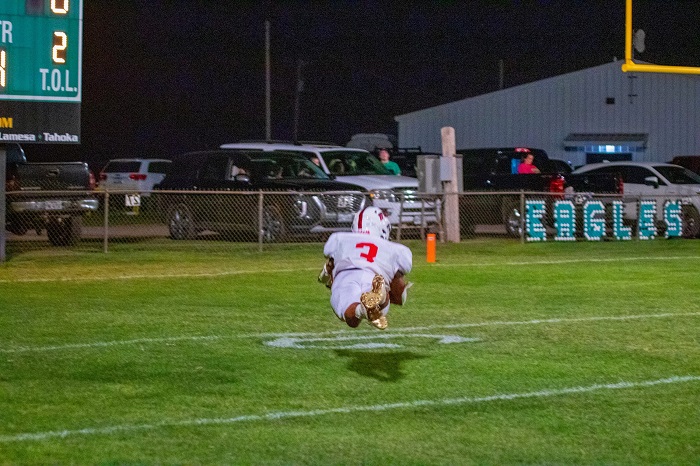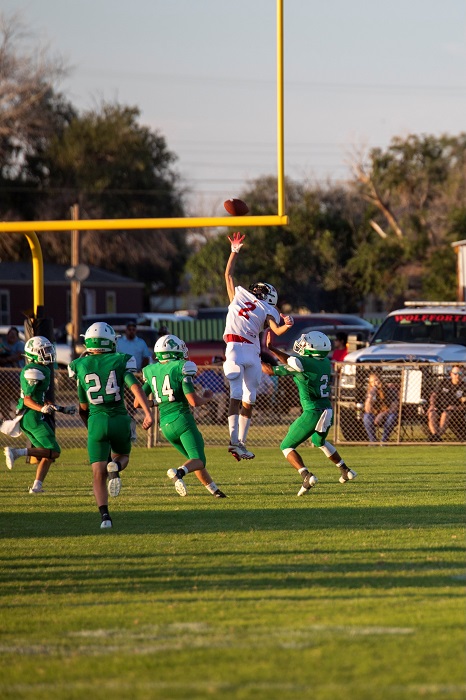 ROPESVILLE — Lockney controlled the ball the majority of their season opener, but the Ropes Eagles made the big plays in taking a 31-7 win over the Longhorns at Eagle Field on Friday.
"We had 84 plays to 44 for Ropes. When that happens, your team should win. We could not get it in the end zone," Lockney coach Cory McCombs said. "The game was much closer than the scored indicated."
The Longhorns moved the ball offensively by outgaining Ropes, but 10 penalties and three turnovers by Lockney turned out to be the deciding factors.
"We had 15 players suit up, and it was the first Friday night game for 11 of those," McCombs said. "It was a Murphy's law night — a lot went wrong for us, and a lot went right for Ropes."
An example of the ball bouncing the Eagles way was when the Ropes quarterback fumbled the ball and a running back scooped it up, scooted out of heavy traffic and threw a 23-yard scoring pass. It was a busted play that turned into gold for Ropes.
Ropes scored four touchdowns in the first half with passes of 13, 23, 23 and 26 yards. Lockney's touchdown was on a one-yard plunge by Chuy Gonzales. The Longhorns trailed 24-7 at halftime. The Eagles sealed the game away in the fourth quarter on a 45 yard interception return for a score.
R.J. Medrano was Ropes' main weapon, rushing to 113 yards. He scored on a 26-yard pass reception and threw a 23-yard touchdown pass. Lockney quarterback Austin Rodriguez had 92 yards passing and 42 yards rushing, while running backs Nathan Cineceros and Elias Alvarez ran for 65 and 56 yards respectively.
Team Stats
Lockney       Ropes
first downs                   19                 7
total plays                    84                44
rushing yards              202              110
passing yards               92               131
total yards                   294              241
turnovers                       3                  2
penalties                    10-60            1-5
Lockney's individual stats:
Austin Rodriguez — 9-23-92 passing, 12-42 rushing
Nathan Cineceros — 15-65 rushing
Elias Alvarez — 13-56 rushing
Chuy Gonzales — 5-25 rushing, TD
Results of LOCKNEY's opponents
Tulia                    32       FLOYDADA        0
Bovina                 29       BOYS RANCH  14
PLAINS              38       Tahoka                 18
New Home          53       OD. COMPASS    0
Electra                 12       MEMPHIS          7
Farwell                42       RALLS               21
Shamrock            42       CROSBYTON   14
Stamford             38       HAMLIN             6
Hawley                34      ROSCOE            14
Next game: Floydada Whirlwinds, Sept. 3 at Mitchell-Zimmerman Field