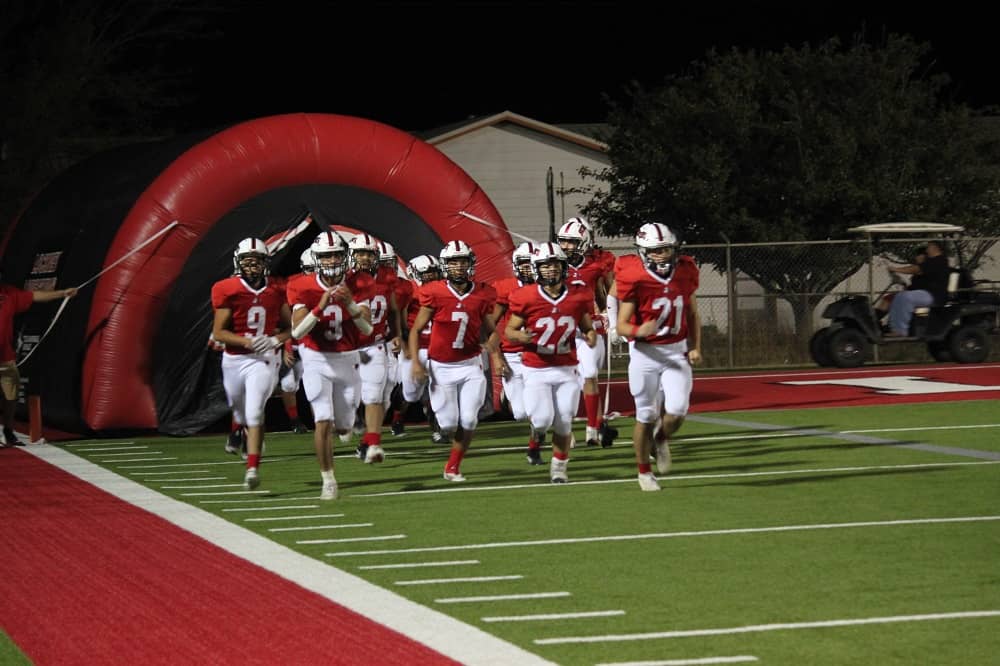 The Lockney Longhorns run out of the tunnel after halftime of their Homecoming game against the Memphis Cyclones on Oct. 8, 2021. (Alex Driggars/Floyd County Record)
LOCKNEY — The injuries that occurred to two key Lockney seniors at Hamlin on October 22 played a significant role in the Longhorns falling in the District 5-2A-II Championship to the Roscoe Plowboys 46-6 on Friday at Mitchell-Zimmerman Field. The timing could not have been worse as Lockney was short-handed with only 15 players suited up against the No. 7-rated (Harris Ratings) Plowboys. The loss snapped the Longhorns' (7-2, 2-1) winning streak at seven games, while the Plowboys (8-1, 3-0) extended its consecutive victories to eight.
"We were without our top rusher and leading tackler in Nathan Cineceros, and our leader in interceptions and receiving in Jesus Gonzales. These two seniors have been key players and leaders for us all season," said Lockney coach Corey McCombs. The status is unknown if they will get to play again this fall since they both had MRIs since the Hamlin game.
Lockney started the game with a nine-minute drive that stalled out at Roscoe's one yard line due to an interception by Roscoe. The Plowboys then proceeded to march the length of field and score on their first possession.
"What happened in the first quarter set the tone for the second quarter when Roscoe scored 30-points with a pair of long touchdown runs and two passes for scores. Roscoe was very balanced in their attack. They are a really good ballclub," McCombs added.
"We came out in the second half and played like we have all season — hard. We did not give up. The bottom line is we were simply undermanned. I did not bring anyone up for the JV since they are in a position to win the district title, and I wanted to keep them together," McCombs noted.
Lockney will attempt to re-group for the regular season finale with the Ralls Jackrabbits (6-3, 2-1) to decide the number two and three seeds out of 5-2A-II for the state playoffs. The game will be at Ralls. Lockney will have interest in District 6-2A-II games of Seymour at Archer City, and Olney at Quanah for potential Bi-District playoff matchups.
Scoring Summary
Roscoe – 8 30 0 8 – 46
Lockney – 0 0 0 6 – 6
Records: Roscoe (8-1, 3-0), Lockney (7-2, 2-1)
L – Austin Rodriguez 57-yd. run in fourth quarter
District 5-2A-II Results – Oct. 29
Roscoe 46, Lockney 6
Ralls 51, Crosbyton 12
Hamlin – open
District 5-2A-II Standings
Roscoe* – 3-0, 8-1
Lockney^ – 2-1, 7-2
Ralls^ – 2-1, 6-3
Crosbyton~ – 1-3, 4-5
Hamlin – 0-3, 0-9
*Dist. Champion and No. 1 seed
^Playoff qualifiers as No. 2 or 3 seed
~Playoff qualifier as No. 4 seed
District 5-2A-II Schedule – Nov. 5
Lockney @ Ralls
Roscoe vs. Hamlin
Crosbyton – open date
District 6-2A-II Standings
Archer City – 4-0, 6-2
Seymour – 4-0, 6-3
Olney – 2-2, 4-5
Quanah – 2-2, 2-7
Electra – 0-4, 3-6
Munday – 0-4, 0-9
District 6-2A-II Schedule – Nov. 5
Seymour @ Archer City (for 1 and 2 seeds)
Olney @ Quanah (for 3 and 4 seeds)