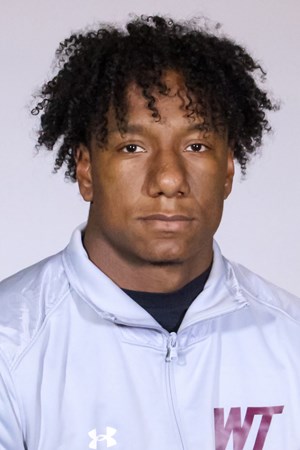 Jarrod Compton (WTAMU Photo)
RICHARDSON, Texas — West Texas A&M's Jarrod Compton was honored on Monday as the Lone Star Conference offensive Player of the Week by the league's office. The 5'10" 185-pound junior running back was the Buffaloes' workhorse in a 15-12 win over Midwestern State on Saturday at Buffalo Stadium in Canyon. Midwestern and West Texas A&M are setting in first and second places respectively in the LSC race.
Compton carried the football 30 times for 160 yards including a 7-yard touchdown run. The 30 carries is the most by a Buffalo in a single game since 2018. On the season, Compton is WT's second leading rusher with 513 yards and two touchdowns. His longest run of the season is for 51 yards.
Compton is a junior graduate of Lubbock Coronado. His father J.R. Compton — Floydada's current head coach — was Jarrod's running back coach at Coronado. J.R. Compton was a star running back for the West Texas A&M in the 1980s and is a member of the Buffaloes Hall of Fame. J.R. was also an All-State running back in high school while playing for the Hale Center Owls.