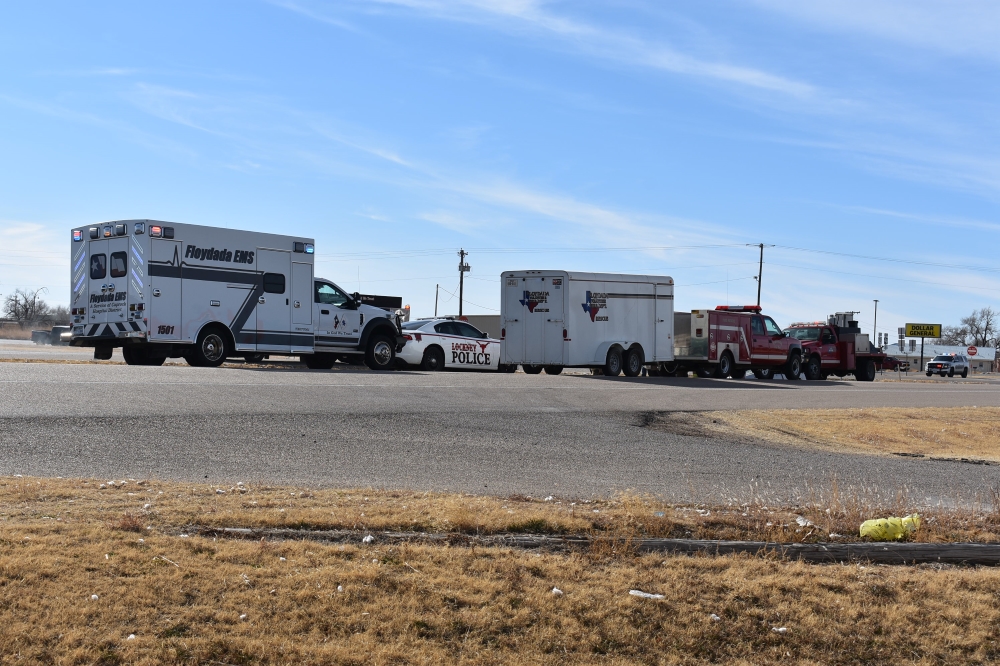 Accident scene in Lockney on February 8, 2022 (Ryan Crowe/FCR)
LOCKNEY – The driver of a pickup killed in Tuesday afternoon's head-on collision with an 18-wheeler in Lockney has been identified.
MORE: 1 dead in Lockney highway crash
DPS Troopers say 24-year-old Christian Bursiga of Lockney was killed after he pulled out in front of the semi truck at the intersection next to Lockney's Longhorn Express gas station. Troopers say Bursiga failed to yield right-of-way to the truck and was not wearing a seatbelt.
The 18-wheeler, carrying a wind turbine motor, was driven by 64-year-old German Burgeno of Haskell. He was taken to Mangold Memorial Hospital with minor injuries. His 18-wheeler was heading eastbound and overturned into the median. The turbine motor came to rest on the roadway, damaging pavement.
TxDOT crews spent the overnight hours Tuesday into Wednesday getting the road reopened for traffic, removing 2-3 inches of damaged pavement. They were able to open one lane to traffic. TxDOT's Lubbock office reports it will remain down to one lane until full repairs can be made. They expect to finish by Thursday evening, but suggest until then to be aware of the construction and slow down in the area.