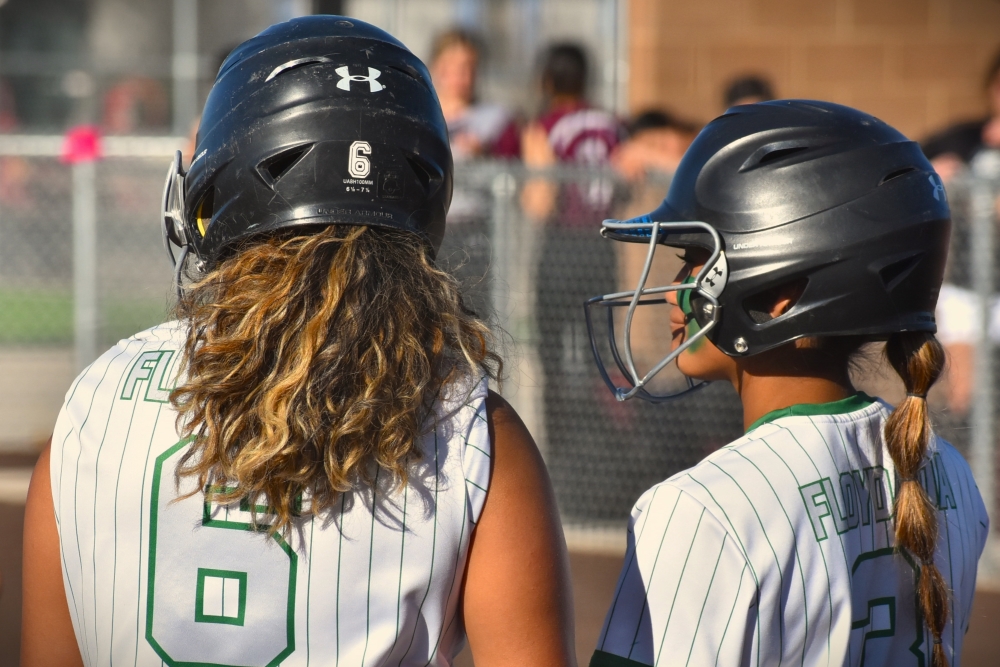 The Floydada Lady Winds in action at Lady Winds Field on March 1, 2022. (Ryan Crowe/FCR)
SEMINOLE – It was a weekend of mixed lineups for the Floydada Lady Winds (13-2-1) due to players involved in academic events on Thursday, and some competing in the Whirlwind Relays on Friday. Saturday the Lady Winds played with a more normal lineup and the results were evident with wins over the Slaton Tigerettes 14-6 and the Denver City Fillies 5-1.
The entire tourney the Lady Winds were challenged by higher classification teams from 4A and 3A, but Floydada was still able to come away with a 4-2 record for the tournament.
The Lady Winds had big innings in the third and fourth against Slaton by scoring six and seven runs respectively. Clari Delafuente filled up the scorebook going 3-3 at the plate including a triple and double, a RBI and scored three runs from her leadoff position; Carissa Fernandez finished 2-3 with a triple,RBI and scored a run; Analise Perez went 2-3 that produced a RBI and scored two runs; and Tatum Glassock slapped a two RBI double. Eight different Floydada players got at least one hit, and nine Lady Winds crossed home plate for a run.
In the second game with the Denver City Fillies, Floydada again ignited in the fourth inning by pushing across four runs in breaking open what was a tight game of being tied 1-1. Delafuente, Marissa Obregon and Soriah Wickware each hit a double. Wickware also had a single and she led the team with two RBI.
Trevino got both wins pitching on Saturday to improve her season record to 12-1. For the two games Trevino had 10-strikeouts, allowed seven runs on nine hits, and walked six.
GAME ONE – Saturday
SLATON – 3 0 0 3 – 6 5 0
FLOYDADA – 1 0 6 7 – 14 12 3
WP – Erin Trevino
record: Floydada (12-2-1)
triple (1) – Clari Delafuente
doubles (5) – Soriah Wickware, Erin Trevino, Delafuente, Tatum Glasscock, Carissa Fernandez
singles (6) – Analise Perez (2), Delafuente, Marissa Obregon, Fernandez, Celese Wickware
RBI – Glasscock (2), Delafuente, Obregon, Trevino, Perez, S. Wickware, C. Wickware
runs scored: Delafuente (3), Perez (2), Kaley Garza (2), S. Wickware (2), C. Wickware,
Obregon, Fernandez, Trevino
GAME TWO – Saturday
DENVER CITY – 0 1 0 0 0 0 – 1 4 3
FLOYDADA – 1 0 0 4 0 0 – 5 6 0
WP – Erin Trevino (12-1) (71-K's)
record: Floydada (13-2-1), Denver City (4-9)
doubles (3) – Clari Delafuente, Soriah Wickware, Marissa Obregon
singles (3) – Carissa Fernandez, Kaley Garza, S.Wickware
RBI – S. Wickware (2), Delafuente, Obregon, Tatum Glassock
NEXT: Tuesday, March 8, 5pm – Home vs Littlefield Lady Cats
900 AM (All Ag All Day) and 98.5 FM will have the radio broadcast