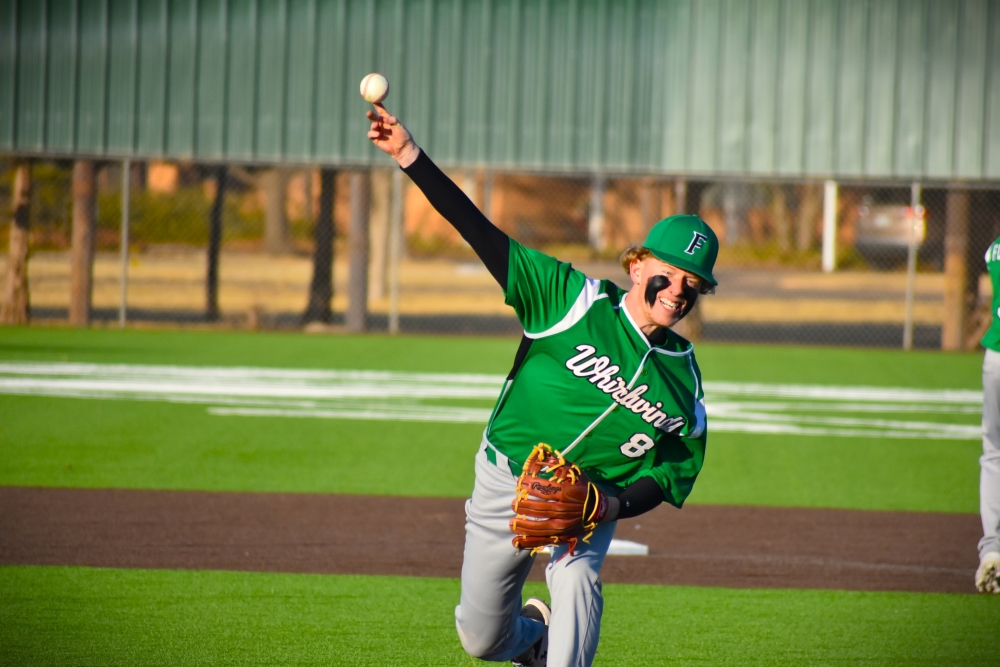 Floydada Senior Trace Glasscock pitching at Watson Field. (Ryan Crowe/FCR)
OLTON – To be a playoff contender, a team needs good pitching, and senior Trace Glasscock delivered in a 15-8 win over the Olton Mustangs on Tuesday.
Glasscock threw six strong innings of spreading out seven hits for six runs and threw a season high nine strikeouts in leading the Floydada Whirlwinds (6-9, 3-4) to their second consecutive win.
"Trace did a good job of keeping the Olton lineup off balance. His nine strikeouts came at some opportune times. I just thought he was in command today on the mound," said Floydada coach Danny Brittian.
Floydada has outscored Lockney and Olton by a combined 37-15 runs in their last two outings. The Whirlwinds have now climbed to third place in the 3-2A standings behind the New Deal Lions and Ralls Jackrabbits, who are both undefeated in district play.
"I can sense the confidence of the team and the optimism they possess in recent games. We just need to keep it going. We are playing out the schedule one game at a time, and becoming a pretty good ballclub," Brittian echoed with satisfaction.
Floydada's offense exploded for 11-runs in the fifth inning when seven different players had RBI hits – those being Izaiah Alvarado, Matthew Luna, Juan Gonzales, Davian Ramos, Andres Mendoza, and Donovan Rocha.
The Whirlwinds have been a good hitting team the majority of the season. Tuesday they were led by Gonzales, Ryan Perez and Javier Santos with a pair of hits each. Perez hit a double for the Winds only extra base hit. Santos led the team with three RBI, while Rocha had a team high three runs scored.
Floydada and Olton will conclude their two game series on Friday at Watson Field with a 6pm first pitch. 106.1 FLiP FM will have the broadcast.
FLOYDADA – 1 0 2 0 11 0 1 – 15 9 3
OLTON – 0 1 0 1 4 0 2 – 8 8 9
WP – Trace Glassock (3-2), LP – Vasquez
records: Floydada (6-9, 3-4), Olton (0-5, 0-6)
Double – Ryan Perez
Singles (8) – Juan Gonzales (2), Perez, Donovan Rocha, Saul Reyes, Izaiah Alvarado,
Matthew Luna, Kyler Gillespie
RBI – Javier Santos (3), Andres Mendoza, Rocha, Reyes, Perez, Luna, Gonzales
Runs Scored – Rocha (3), Mendoza (2), Reyes(2), Santos (2), Alvarado (2), Perez, Luna,
Gonzales, Davian Ramos
DIST 3-2A Baseball results – Tuesday
Floydada 15 Olton 8
Lockney 9 Hale Center 4
New Deal 22 Post 0
Ralls – open
DIST 3-2A Baseball standings and season records
New Deal 7-0 11-3
Ralls 6-0 11-7
Floydada 3-4 6-9
Lockney 2-3 9-5
Post 2-3 3-8-1
Hale Center 1-6 4-10-1
Olton 0-5 0-6
DIST 3-2A Baseball schedule for Friday-Saturday
Olton at Floydada (Friday)
Hale Center at Lockney
Post at New Deal