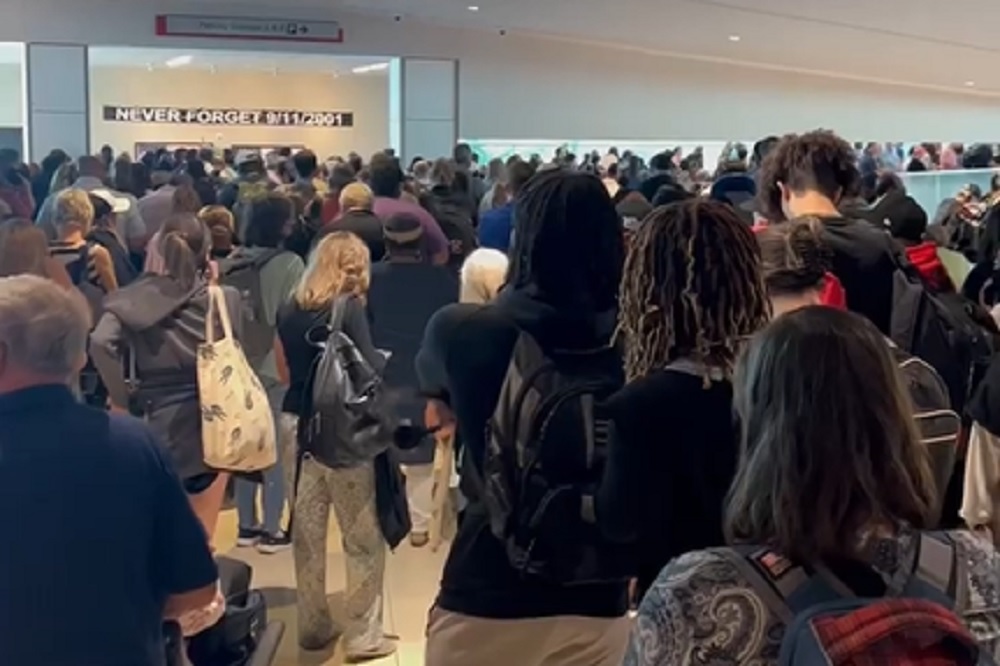 The line of passengers trying to rebook flights and get through security at Dallas Love Field following an incident on Monday, July 25, 2022. (Starla Sims/Used with Permission)
DALLAS – An incident at Dallas Love Field Monday morning has had an impact on Floyd County travelers.
According to NBCDFW.com a 37-year-old woman started shooting into the air at the Southwest Airlines ticket counter just before 11:00 a.m.
Floydada resident Starla Sims was one of thousands of airline passengers in the terminal at the time of the shooting, and tells the Record it was "sheer panic" as people tried to find a place to take shelter.
Sims, who was traveling for work, says she and a number of other passengers were ushered onto a jetbridge and into an empty plane by a Southwest flight attendant. The group huddled in the back of the plane until the all-clear was given.
In a Facebook post, Sims said "The feeling of being in a situation like this is terrifying. People abandoning shoes, bags & anything else that was slowing them down."
The airport had to be cleared following the incident, video Sims posted to her account shows the sheer number of people having to leave the secure area.
Airport operations started to return shortly after 2:30 p.m. when the Federal Aviation Administration lifted their "ground stop" for all flights in and out of the airport. Now, the airline has to get a number of stranded passengers home. After getting a hotel room Sims says she will be on a flight to El Paso tomorrow morning. Others, like the Record's Tony St. James, found themselves stranded elsewhere due to the delays. His flight into Love Field from Washington, D.C. was moved to tomorrow evening.
A number of Southwest flights to and from Lubbock International Airport were canceled or heavily delayed due to today's incident. It is suggested you check Southwest.com before heading to the airport to check on delays and cancelations.