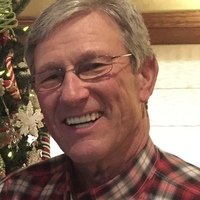 Randy Henderson (Lockney)
Randy Keith Henderson of Lockney, Texas, passed away on March 6, 2023, in Lubbock, Texas. Funeral Services will be held at 10:00 a.m., Friday, March 10, 2023, at the Main Street Church of Christ in Lockney, with Jay Don Poindexter officiating.
Randy was born December 6, 1949, in Plainview, Texas, to C.L. and Marie Henderson. He graduated from Lockney High School in 1968 and attended Texas Tech University. Randy served in the United States Army National Guard and was honored as an Outstanding Trainee of his basic training company at Fort Jackson, South Carolina. Randy married the love of his life, Nancy Jane Lambert, on December 20, 1974. He was a dedicated farmer in Floyd and Briscoe Counties for over 45 years. Randy loved his community. He served as President of the Floyd County Fair Board and as a Lockney Coop Board of Directors member. His efforts to fill a need in his community led to the construction of Henderson-Lambert Park, a little league ballpark, in Lockney in 1992. Randy was a member of the Main Street Church of Christ in Lockney. Randy took great pride in his relationships with students in the Adventures in Missions (AIM) program in Lubbock and students in the PAC program in Floydada, mentoring them all in putting their faith in God and using what God has given to bless others.
Randy will be remembered as a loving husband, brother, father, father-in-law, "Andad", and friend. His friends say the phrase that epitomizes Randy is "just do it." When something needed to be done, he just did it. His family and friends remember him as loyal, hardworking, deliberate, tender-hearted, benevolent, and joyfully generous, often doing things for people who would never know it. Randy ensured people knew he cared, not always with words but with time. He invested in people and could always be counted on when you needed him. He loved animals, the outdoors, and road trips. He loved playing golf with his buddies and snow and water skiing. He was a "full-throttle guy," enjoying fast cars and flying his plane. He was a 25-year colorectal cancer survivor and cancer screening advocate. He was a believer and proponent of faith and believed it was always best to "keep it simple."
He is preceded in death by his parents and an infant son, Lee.
Randy worked hard. As hard as he worked, he loved his family even more. Randy is survived by his wife of more than 48 years; Nancy Jane; his children; Shawn and Randi Mitchell (Alabaster, Alabama) and Hank and Megan Henderson (Lockney, Texas); his grandchildren; Brock, Bryna, and Bailey Henderson and Autumn Jane Mitchell, his brother; Don Henderson, and sister; Nancy D. Henderson, and his mother-in-law; Joann Lambert Stevens. He will also be missed by many other relatives and friends.
Memorials in his honor may be made to Main Street Church of Christ (PO Box 596, Lockney, Texas, 79241), Adventures in Missions (AIM, Attn. Finance Department, 3723 34th Street, Lubbock, Texas 79410), or Rescue Animals Second Chance (RASC) (rasclubbock.org, 4606 21st Street, Lubbock, Texas, 79407-2312).