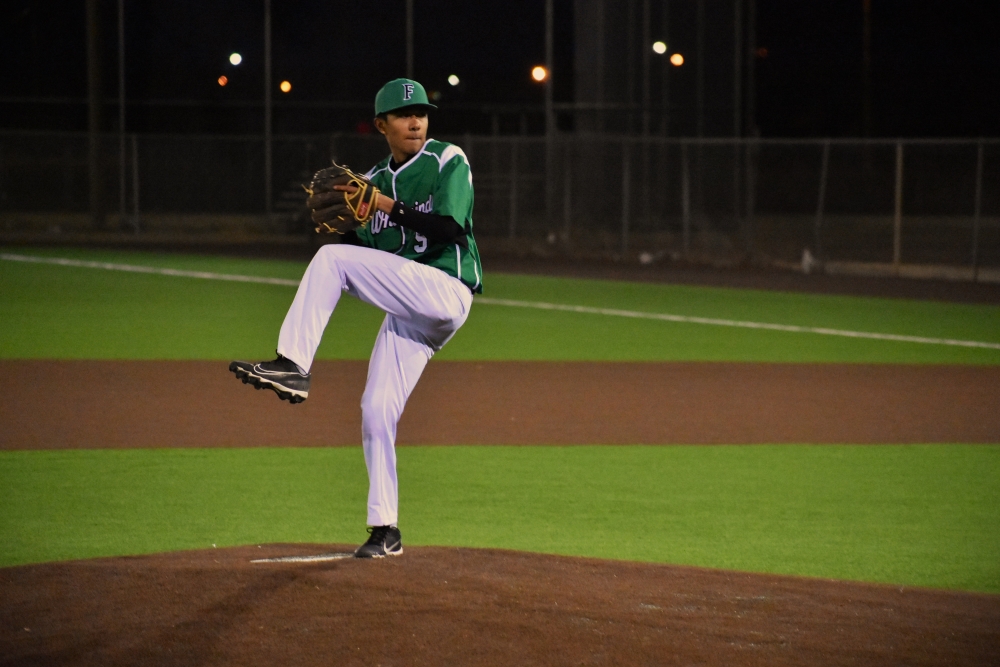 The Floydada Whirlwinds opened the 2022 season in the refurbished Watson Field Monday, February 21, 2022. (Ryan Crowe/FCR)
FLOYDADA – The Floydada Whirlwinds got off to a rocky start in debuting on the new turf of Watson Field by getting behind 10-0 in the first inning against the Roosevelt Eagles. Floydada battled back and outscored the Eagles 9-4 over the next six innings before losing by 14-9 score on a windy and sometimes drizzly Monday evening.
The Whirlwinds (0-1) showed a lot of fight after the disastrous first inning. Floydada batted around the order (9-batters) on two occasions and sent six to the plate in two other frames. Timely hits were hard to come by on numerous occasions by leaving 11-base runners stranded on the bases.
Floydada's offense was led by junior Andres Mendoza going 3-for-3 (all singles) and picking up a pair of walks. Junior Iziah Alvarado was 2-for-3 including a double and a walk.
ROOSEVELT – 10 0 1 0 2 0 1 – 14 14 1
FLOYDADA – 0 0 0 1 3 1 4 – 9 10 3
LP – Javier Santos (0-1) Relievers – Trace Glassock (2) , Donavan Rocha (6)
record: Floydada (0-1)
Double – Iziah Alvarado
Singles – Andres Mendoza (2), Alvarado, Matthew Luna, Javier Santos, Davian Ramos,
Juan Gonzales, Trace Glassock,
Runs scored – Santos (3), Alvarado, Luna, Ramos, Gonzales, Mendoza, Glasscock,
Noe Dela-Santos
NEXT: will play in the Post Tournament at Norm Cash Field on Thursday through Saturday.