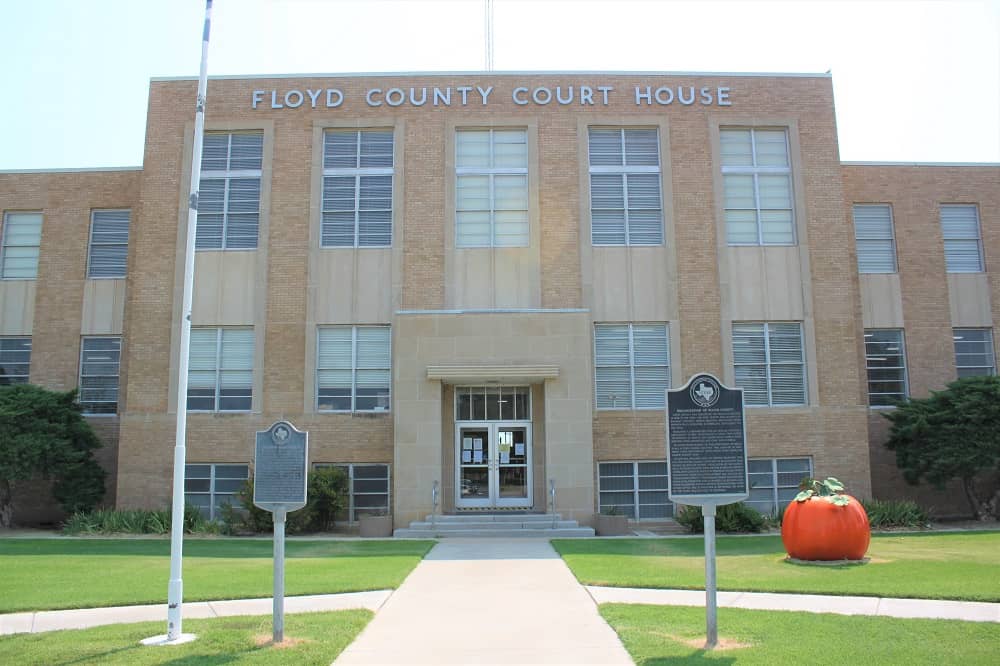 Floyd County Courthouse (Alex Driggars/Floyd County Record)
FLOYDADA — Candidate filings for the March 1 primary in Floyd County have been finalized, with 10 candidates vying for one of eight county offices.
The Floyd County seats up for grabs are county judge, county clerk, district clerk, county treasurer, precinct 2 commissioner, precinct 4 commissioner, justice of the peace for precincts 1 and 4 (Floydada), and justice of the peace for precincts 2 and 3 (Lockney).
Two of those races have more than one candidate — county treasurer and justice of the peace precincts 2 and 3. The incumbent in that seat, Judge Ed Marks, did not file for re-election. Incumbent District Clerk Patty Davenport did not file for a place on the ballot either.
In addition to the county contests, incumbents filed for 110th District Judge and U.S. Representative District 19.
Filings in the Republican primary are:
County Judge: Marty Lucke, incumbent
County Clerk: Ginger Morgan, incumbent
District Clerk: Mary Jane Cisneros, librarian
County Treasurer: Lori Morales, incumbent; Elva Martinez, lending assistant
County Commissioner, Precinct 2: Clint Bigham, incumbent, farmer
County Commissioner, Precinct 4: David Martinez, incumbent, farmer
Justice of the Peace, Precincts 1 & 4: Tali Jackson, incumbent
Justice of the Peace, Precincts 2 & 3: Darrell Rasco, retired; Jonathan Sustaita, deputy JP court clerk
District Judge, 110th Judicial District: William P. "Bill" Smith, incumbent
U.S. Representative, Texas District 19: Jodey Arrington, incumbent
No candidates filed for the Democratic primary, according to the Texas Secretary of State's website.
The last day to register to vote in the March 1 primary is Jan. 31. Early voting begins on Feb. 14. The last day to apply for a mail-in ballot is Feb. 18.